General Information
Start/End: Paro/Paro
Duration: 11 days/10 nights
Tour route: Thimphu – Dochu La Pass – Phobjikha – Jigme Singya Wangchuck National Park – Punakha – Paro
Tour Category: Bhutan Tour Itinerary
Tour Customizable: Definitely! (Tell us your specific requirements in the inquiry form)
Guides: Local Guide (English speaking guide, other languages depend on your request)
Transportation: Private first-class air-conditioned vehicles
Accommodation: Listed below or equivalent. Rooms with private bath or shower, hotel taxes, porterage, tips, and service charges.
Brief Itinerary
Day 1: Paro Arrival – Sightseeing
Day 2: Paro – Punakha (B)
Day 3: Punakha Exploration (B)
Day 4: River Morning Walk – Talo Samga Lhakhang & Village (B)
Day 5: Free Day – Optional: White Water Rafting (B)
Day 6: Punakha – Paro (B)
Day 7: Paro Explorer (B)
Day 8: Chele La Pass & Hike to Kila Nunnery (B)
Day 9: Drakhapo Monastery – Adventure Cave (B)
Day 10:Tiger's Nest Hiking (B)
Day 11: Paro Departure (B)
Day 1: Paro Arrival – Sightseeing
Upon arrival, our guide will be waiting to warmly greet you at the airport. Once you have settled in your first foray into the Kingdom begins with sightseeing in Paro town and a visit to a local temple. This afternoon provides an opportunity to acclimatize to the rarefied air at this altitude and to get to know your guide, who will offer some additional sightseeing options for the rest of the day depending on your interests.
Hotel: Uma Paro
Day 2: Paro – Punakha (B)
The capital Thimphu itself sprawls up the wooded western hillside of the Wang Chhu and is the centre of government, religion and commerce. You may wish to shop or dive to the town viewpoint at the Big Buddha statue. If time permitting to visit Thimphu, the sightseeing begin with a tour including some of the following (exact itineraries dependent on opening times and interests): National Memorial Chorten, Trashi Chhoe Dzong, the weekend market (Main market days are Friday, Saturday and Sunday), and Folk Heritage Museum.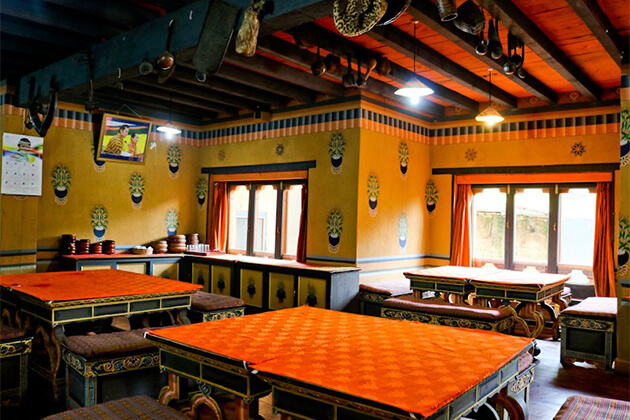 After that, transfer to Punakha which is truly awe-inspiring drive as it zigzags up to the 3,140 m-high mountain pass of Dochu La with its forests of fluttering prayer flags, a maze of memorial chortens and, on a clear day, sweeping views of the main Himalayan range. Upriver, deep in the verdant terraced hills, past Punakha Dzong is our home for the next two nights, Uma Punakha.
Hotel: Uma Punakha
Day 03: Punakha Exploration (B)
You have a full day for further exploration of the scenic Punakha Valley, which at 1,200 m is low enough to allow bananas and oranges to grow. Walk up through whitewashed homesteads and farmland to Khamsum Yuley Namgay Chorten, a shrine recently built by the royal family (the chorten can be clearly spotted from our breakfast table). This ornate and elaborate structure has a rainbow of Guru Rinpoche images and superb views.
Then head down along the riverside the massive architectural edifice of the 17th-century Punakha Dzong soon looms into views. The fortress-monastery was built in 1637 by Shabdung Nawang Namgyal in a commanding position at the confluence of the Po Chhu and Mo Chhu (Father and Mother rivers). It once served as the seat of the Kingdom's government and is now the winter home of Je Khenpo, the head abbot of Bhutan, along with a retinue of 1,000 monks.
In the afternoon, pay a short walk across rice paddies takes us to Chimmi Lhakhang, a fertility temple dedicated to Drukpa Kuenley, a Tibetan Buddhist saint known popularly as the Divine Madman. The temple sits atop a picturesque hill surrounded by rice fields. Drukpa Kuenley built a chorten on the site in the 14th century, and it has long been a pilgrimage site for couples hoping to start a family.
Hotel: Uma Punakha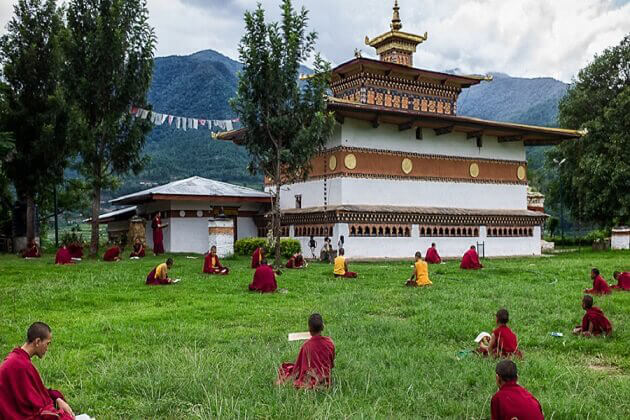 Day 04: River Morning Walk – Talo Samga Lhakhang & Village (B)
The large building we see to the north of Uma Punakha is called Botakha Palace. It was built during the 1950s by the late Third King as his residence but when the Capital of Bhutan was shifted to Thimphu it fell empty. The palace gardens are full of mature fruit trees and the local farmers still pay homage to a huge mythical serpent by offering some of each rice harvest in the posthole of a huge prayer flag.Your morning walk crosses the river at a suspension bridge downstream from "snake bend" and contours through lush farmland and homesteads up to Bale Lhakhang, a tiny local temple with sweeping views down the valley past Uma Punakha.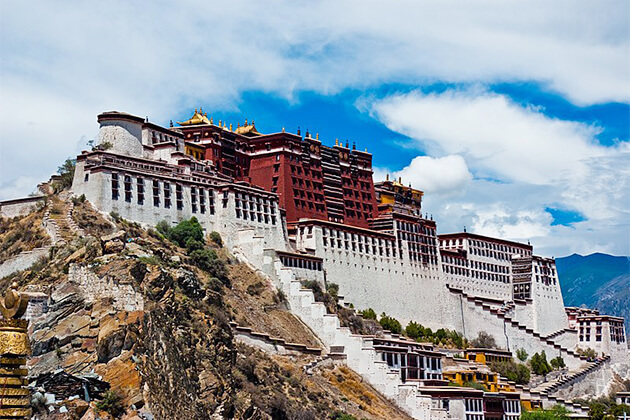 In the afternoon, visit Talo Village where the site was founded by Chogtrul Jigme Singye the 4th reincarnation of Lama Tripa (Galsey Tenzin Rabgye), which literally means the holder of the throne. The monastery also served as their living quarters. Currently, the monastery accommodates the Gonkhang (inner chapel dedicated to guardian deity) and residence of the abbot. Talo Sanga Choling also houses many Lhakhang, in which Neten Chudrug (sixteen Arhats) lhakhang is one of them.
Hotel: Uma Punakha
Day 05: Free Day – Optional: White Water Rafting (B)
Relax around Uma Punakha, perhaps trying the other riverside bird watching walk, or maybe a wellness therapy such as a traditional Bhutanese Hot Stone Bath.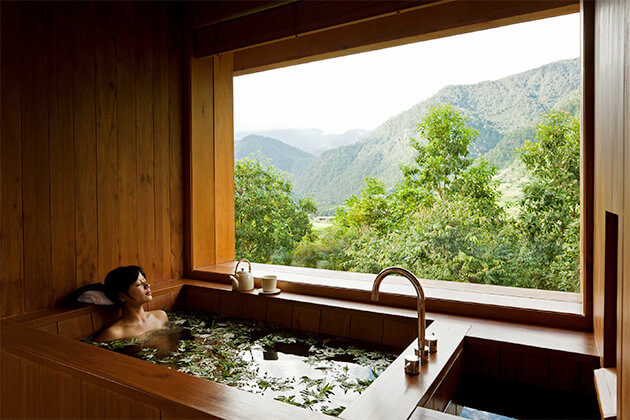 Optional white water rafting "Mo Chhu – The Temple Stretch" (Runs year-round, raft up to 45-minutes but shorter during monsoon season July-August) The temple Stretch is another great introduction to rafting, the trip is the most leisurely with the rapid running up to grade ll with long calm sections. Start your day by taking an hour or so hiking up to the temple at Nyezenggong and then floating down the scenic Mo Chhu past the Punakha Dzong.
Hotel: Uma Punakha
Day 06: Punakha – Paro (B)
Time to retrace your steps over the Dochu La for a second view of the wonderful Himalayan range. Return to the Chuzum (river confluence) to catch a glimpse of the three shrines in Nepali, Tibetan and Bhutanese style which were built to ward off evil spirits near the checkpoint. Time permitting the journey can be broken with a visit to Tamchhu Lhakhang built by Thangtong Gyalpo, the so-called Iron Bridge Builder. This former saint from the 14th century introduced the art of building suspension bridges with iron chains and the only way to reach his temple is by one of these bridges.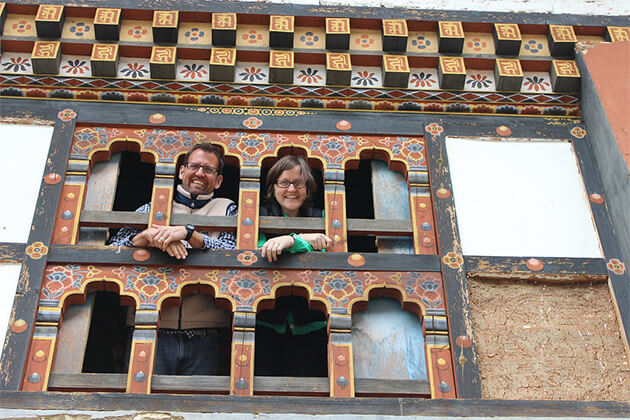 On the final leg, the road snakes alongside the Pa Chhu River, through apple orchards and rice paddies, past quaint homesteads to our home in the mountains, Uma Paro. After check-in and a show round, spend the rest of the day relaxing around the property, enjoying the facilities or trying an activity like the Bhutanese national sport of archery or a traditional Bhutanese Hot Stone Bath.
Hotel: Uma Paro
Day 07: Paro Explorer (B)
Wind through pine forests high above Uma Paro to the pretty grounds of the fortress-like monastery of Zurig Dzong. Cross to home of Bhutan's National Museum with magnificent views over Paro and down to Rinpung Dzong (Fortress on a Heap of Jewels). The trail then leads across Paro Chhu (river) via the traditional covered bridge, Nyamai Zam, and then past the main archery ground, Ugyen Pelri Palace, and into Paro town.
Then drive a few kilometers north of Paro, and pay our respects at Kyichu Lhakhang; one of the oldest temples in Bhutan with its magical orange tree that bears fruit all year round. Time permitting, travel drives further up the valley to Drukgyel Dzong, built-in 1648 by Zhbdrung Ngawang Namgyal to control the northern route to Tibet.
Hotel: Uma Paro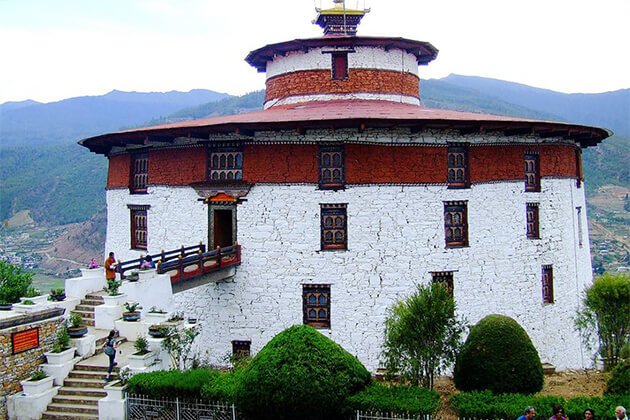 Day 08: Chele La Pass & Hike to Kila Nunnery (B)
Today, start early for the drive to Chele La Pass which, at 3,988 m is the highest road pass in Bhutan, snaking upwards through blue pine and rhododendron forests for 35 km. On a clear day, the view sweeps away to the snow-dome of Bhutan's second-highest peak, Mount Jhomolhari (7,314 m), and down to the Haa Valley.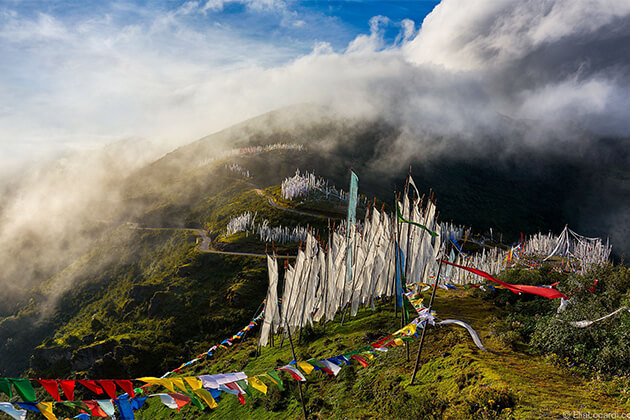 Descending for the two-hour hike through dense rhododendron forest, possibly sighting shaggy yaks, to Kila Goemba, an ancient nunnery nestled in a craggy patch on the mountainside below. Kila Goemba is a serene retreat for 32 Anim (Buddhist nuns) who lead an undisturbed life of religious studies, prayer, and meditation. This sacred place has a timeless quality which is ample reward after the effort of the hike. Having made our offerings and perhaps been blessed, it is time to descent further.
An hour later, return back at the road where you can saddle up on a mountain bike free-wheeling down to Paro Valley. For those who would rather leisurely sightseeing day, there is the option to drive from Chele La Pass down the other side to the Haa Valley. In case Chele La Pass is not accessible during the winter, your guide will propose an alternative for this day excursion.
Hotel: Uma Paro
Day 09: Drakhapo Monastery – Adventure Cave (B)
After a short drive from Uma Paro, set off on our 90-minute easy acclimatization walk to Drakhapo Monastery, which has a small community of monks living nearby. The main temple room is precariously perched on the edge of a rock cliff and there are some sacred sites to view, including the body-imprint of Vajrayogini or a stone boot belonging to Guru Rinpoche. The monastery is built on a mountain dotted with underground caves. Nearby, one of these caves has a small ladder for the not-so-faint-hearted, leading into a large cavern that soon turns into a very narrow crevasse.
Hotel: Uma Paro

Day 10: Tiger's Nest Hiking (B)
One of the most amazing and important pieces of architecture in Bhutan is Taktsang Goemba or Tiger's Nest Monastery. Legend has it that this cliffside was where Guru Rinpoche (Padmasambhava) landed on the back of a flying tigress bring Buddhism to Bhutan from Tibet. Make an early start to avoid the hot sun during the two-hour climb to the Tiger's Nest viewpoint. Descending steeply then climb up to the monastery, passing a waterfall and entering through the main gates which are decorated with murals.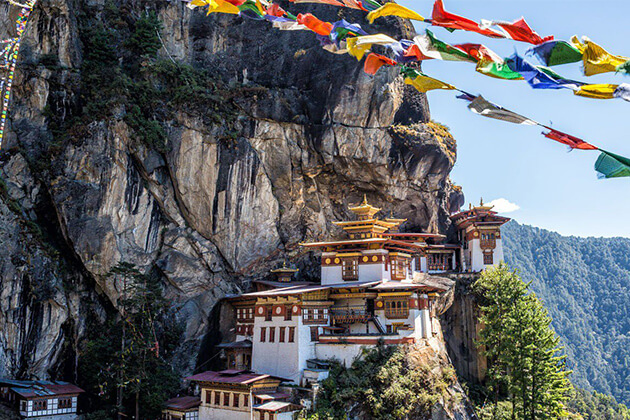 Retrace our steps or if time and energy levels allow, head further up to several remote temples and monasteries. Return to Uma Paro in the afternoon there's time to relax and enjoy the facilities including the steam rooms, swimming pool or a Bhutanese Hot Stone Bath.
Hotel: Uma Paro
Day 11: Paro Departure (B)
Bid a fond farewell to this beautiful Himalayan country and take an early flight back to Singapore. We hope by now you would have made some friends and also kept many photos and beautiful memories of Bhutan tour! And we look forward to seeing you again in this beautiful land of endless Enchantments! Tashi Delek!