General Information
Start/ End: Paro/ Paro
Duration: 7 days/ 6 nights
Tour route: Paro – Thimphu – Punakha- Paro
Tour Category: Bhutan Tour Itineraries
Tour Customizable: Definitely! (Tell us your specific requirements in the inquiry form)
Guides: Local Guide (English Speaking Guide, Other Languages depends on your Request)
Transportation: Private first-class air-conditioned vehicles
Accommodation: Listed below or equivalent. Rooms with private bath or shower, hotel taxes, porterage, tips, and service charges.
Brief Itinerary
Day 01: Paro Arrival – Transfer Thimphu
Day 02: Explore Thimphu Valley (B)
Day 03: Thimphu – Punakha (B)
Day 04: Explore Punakha (B)
Day 05: Punakha – Paro (B)
Day 06: Explore Paro Valley (B)
Day 07: Paro Departure
Day 1: Paro Arrival – Transfer Thimphu
After arriving at Paro International Airport, your journey begins with a one-hour drive, passing rich, forested mountains dotted with monasteries and temples on route to Thimphu, the capital. At an altitude of 7,700 ft (2,200 meters), Thimphu lies in a steep valley and is the only city in the world without a single traffic light. Six Senses Thimphu, our "Palace in the Sky,' is situated high above the valley floor, overlooking apple orchards and young pine forests.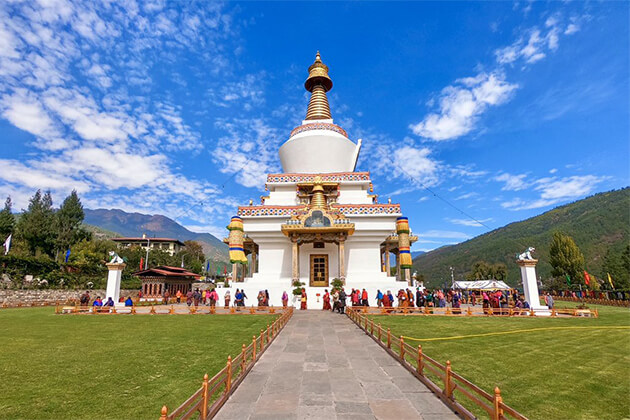 With captivating views over the Buddha Dordenma, the world's tallest seated Buddha at 170 feet/52 meters), the location provides a perfect escape from the capital and yet is close enough to explore its many attractions. We recommend slower-paced activities on your first day as you adjust to the altitude. If energy levels allow, head down to the town and wander with your GEM through Thimphu's lively streets and markets. Stop in at Zorig Chusum (The National Institute of 13 Arts and Crafts) to discover Bhutan's numerous art forms before crossing the road to visit the Folk Heritage Museum, which offers insights into Bhutanese daily life in the past. Don't miss a visit to the Tashichho Dzong, Thimphu's impressive Buddhist monastery and fortress, which presently houses the throne room and offices of His Majesty, the King of Bhutan, as well as the head of the country's religious order. Return to the lodge and ease your tired muscles with a Dotsho (Bhutanese hot stone bath with herbs) in the spa followed by a jet lag massage before dinner at signature restaurant Namkha which offers views over the lodge's reflecting ponds to the glittering lights of the valley below. Settle into the comfort of your suite or villa for a well- deserved night's rest. (*All suggested spa therapies are optional and may be booked in advance upon request.)
Hotel: Six Senses
Day 2: Explore Thimphu Valley (B)
Rise to the Thimphu morning with an optional yoga or meditation class before heading out across the valley to visit the majestic Buddha Dordenma Statue (170 feet/52 meters), perched high above the capital. From here there is a two-hour hike that takes you to Changangkha Lhakhang, one of the oldest monasteries in Thimphu, with sweeping views across the valley. (The monastery can also be accessed by car for those who choose not to hike). Next look into the future at Pangri Zampa Lhakhang, a 16- century monastic school of astrology where you can have a reading by one of the resident monks (*optional and by prior arrangement).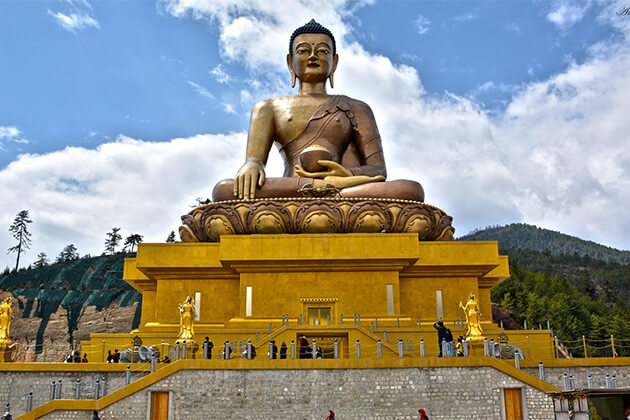 From here it's only a short distance to the Royal Textile Museum, which showcases the intricate art of Bhutanese weaving. Afterward, create your own stamp at the National Post Office (open weekdays only) before returning home to relax at the lodge for the remainder of the afternoon. You can also opt to hike 20 minutes up to Lunsigang, a simple but charming picnic spot for a late afternoon butter tea or masala chai with Bhutanese snacks served by our team and soak in the amazing views. (*The Lunsigang afternoon tea experience is optional and may be booked in advance upon request.).
Hotel: Six Senses
Day 03: Thimphu – Punakha (B)
Rise to the Thimphu morning and enjoy an optional yoga or meditation session at the spa. Enjoy a hearty breakfast before departing. Today's journey takes you towards Punakha over the iconic Dochula Pass. On a clear, sunny day, you'll enjoy dramatic views of the Himalayan peaks as you ascend towards the pass. At a height of 10,000 feet (3,050 meters), there are striking cloud-capped valley views and 108 hillside chortens (Buddhist shrines). Your guide will find a tranquil spot to enjoy a picnic surrounded by nature on the way. Continuing your adventure, descend into beautiful Punakha Valley. Just before Punakha, take a walk up to Chimi Lhakhang, a fertility temple built in AD 1499 dedicated to the "Divine Madman", Drukpa Kunley, a brilliant but philandering 14th-century monk with a penchant for wine and women. This temple is renowned as a must-visit for couples planning to start a family, who come hoping to receive a blessing. The adjacent village has some of the most surprisingly graphic phallus paintings in honor of the saint on its homes and shops. Owing to its lower altitude (4,265 feet/1,300 meters), Punakha offers a warmer climate and is the preferred winter destination for many Bhutanese.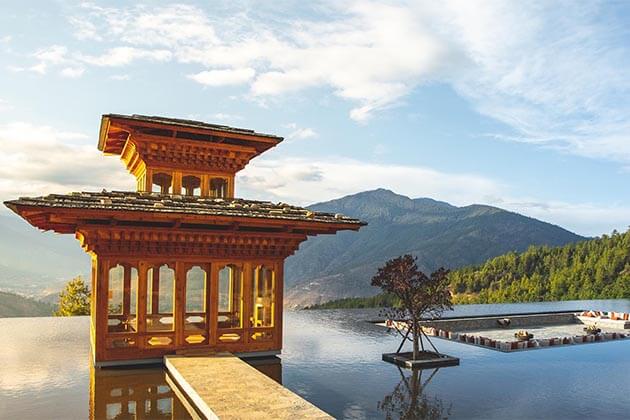 Mark your arrival in the valley by spinning a prayer wheel for good luck before crossing over a dramatic suspension bridge hung with colorful Buddhist prayer flags. Stop mid-way for a meditative moment and take in the sound of the rushing river far below. From the bridge, you can indulge in late afternoon cocktails riverside in a rice field. Whether you prefer yours shaken or stirred, you'll want to toast your arrival to this beautiful valley with pomegranate martinis served up with views to the impressive Punakha Dzong. Watch the sunset and snack on local delicacies like fresh spring rolls and dzao, (popped Bhutanese rice). (*The pomegranate martini experience is optional and may be booked in advance upon request.) Afterward, it's a short 20-minute drive through lush scenery as you ascend to the Six Senses lodge. Check-in at Six Senses Punakha's cozy 'Flying Farmhouse', a cantilevered wooden structure that serves as a lounge set over the lodge's heated swimming pool and with views to the terraced rice fields below. This afternoon you can treat yourself to a deeply-relaxing, 60-minute massage at the Lodge's Spa Village. We recommend the Marma Massage, which uses long and firm flowing movements of varying pressure to eliminate stress-related tension and to balance and align vital energy centers. Enriching oils with powerful active benefits are applied to balance the heart chakra and enhance one's overall sense of well-being. Part of the ritual involves refocusing the mind with a walking meditation exercise. OHM! Weather permitting, dinner will be served poolside this evening.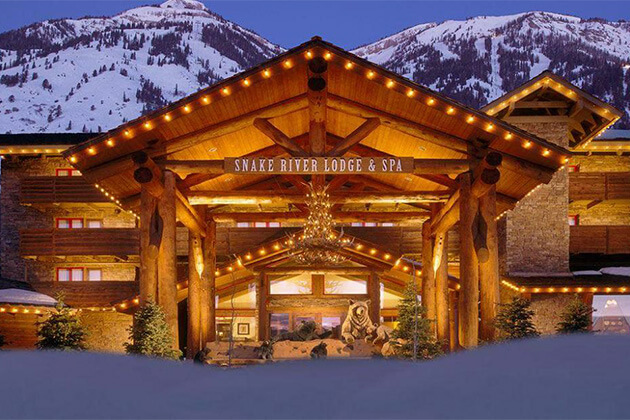 Hotel: Six Sense
Day 04: Explore Punakha (B)
This morning begins with a hike through terraced rice fields as you ascend towards Chorten Ningpo, a monastery which dates to the 17th century. (2.5 hr. moderate hike). Visit Kabesa village on the way with its school, monastery and typical Bhutanese farmhouses. Continue to climb towards Chorten Ningpo where in addition to the dramatic views, you can discover a statue of Maitreya, the future Buddha, with images trailing the lineage of the great lamas (gurus). Your guide will recount for you the legend of the blazing log thrown by the "Divine Madman" to subdue an unruly local demon. Reward yourself with a steaming cup of chai served in an open sala. If the timing is right, you may encounter a blessing ritual in progress and experience the otherworldly sounds of monks chanting in unison accompanied by the rhythmic thumping of drums and trumpet horns. On the way back to the lodge stop off to visit the home of Aum Tshewang and sample her homemade ara (Bhutanese moonshine). We suggest no more than two shots!
Lunch today is a delicious Bhutanese thali set served outdoors on the patio at the lodge. If you have never tried ema datshi, Bhutan's incendiary national dish of chilis and cheese now is your chance! This afternoon, explore the beautiful Punakha Dzong, known officially as Pungtang Dechen Phodrang Dzong, or "The Palace of Great Happiness."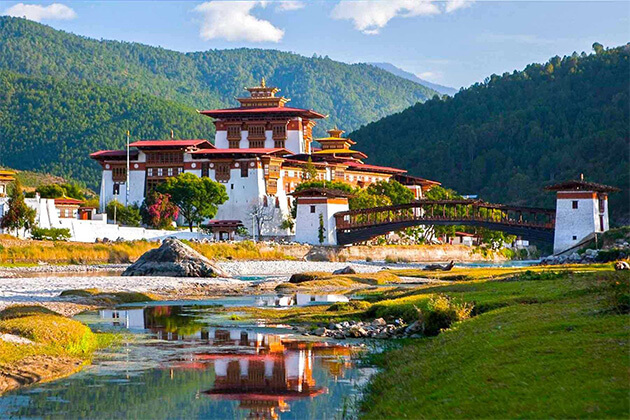 Located at the junction of the Pho Chhu (father) and Mo Chhu (mother) rivers in the PunakhaWangdue Valley, the dzong's majestic structure stands six stories high. Bhutan's second oldest dzong, it served as the seat of the Kingdom's government until the time of the second King and today is the winter home of the Je Khempo, head abbot of Bhutan, along with a retinue of about 1,000 monks. Afterward, you can choose to bicycle or try white water rafting along the river next to the dzong or relax back at the lodge. (*Bicycles are provided on a complimentary basis. White water rafting is optional and may be booked in advance upon request.) This evening, our chefs will prepare a delicious Indian menu at Ari, the lodge's signature restaurant, or you can plan for a poolside barbecue. (*Poolside barbeque is optional and may be booked in advance upon request.)
Hotel: Six Sense
Day 05: Punakha – Paro (B)
This morning re-trace your steps back to Paro by heading west back over the Dochula Pass towards Simtokha Dzong, the first dzong in the Kingdom, built on a strategic ridge overlooking Thimphu Valley in AD 1629. This small, often overlooked dzong is an art lover's delight with its beautifully-decorated inner sanctum showcasing colorful religious flags, mural paintings, and ornate altar offerings.
Continue down to Chuzom Bridge at the confluence of the Wang Chhu and Pha Chhu rivers, and view three nearby shrines featuring Bhutanese, Tibetan and Nepali architecture. Arriving in Paro, visit Rinpung Dzong the "fortress on heaps of jewels". This dzong is an impressive example of classic Bhutanese architecture and is also where the annual Paro Tshechu (festival) is held. Afterward take a stroll through the charming shop-lined streets of Paro selling prayer wheels, local textiles and auspicious amulets. From the town, it's a 20-minute drive up a high mountain road past stunning valley views on the way. Six Senses Paro is situated at an elevation of 2,900 meters/9,500 ft, next to a 15th century ruined fortress. The stone ruins and breathtaking views of the valley below provide a dramatic backdrop to your stay. There are pleasant walks through pine forests as well as small and little-known monasteries well worth a visit just a few minutes' walks from the lodge.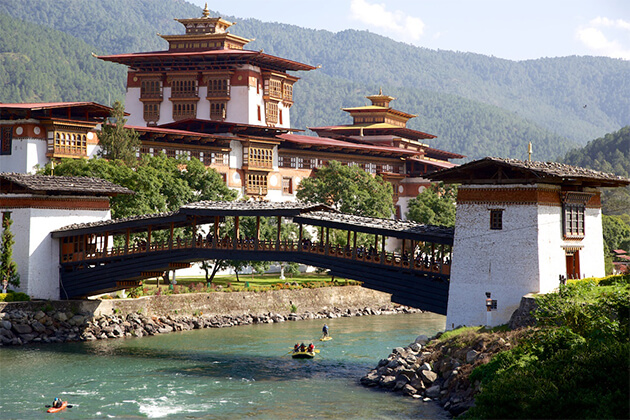 This afternoon next to the stone ruins, you can test your strength and skills with an archery session, Bhutan's colorful national sport. Your GEM will instruct you on the art of the game. Don't forget to adopt the local custom of singing, dancing and distracting your opponent to gain the upper hand. Celebrate your victory afterward with a cold brew or a shot of ara on the terrace of the lodge. (*The archery session is provided on a complimentary basis.) After checking in, head to the spa for a reviving 60 minute back, neck and shoulder 'Tension Soother Massage' the perfect antidote to any accumulated travel aches and great for relieving muscle tension and for restoring mobility.
This evening treat yourself to a cocktail on the patio at sunset before dinner at Jangkho, where we'll serve a delicious menu that incorporates ingredients from our Six Senses organic farm.
Hotel: Six Sense
Day 06: Explore Paro Valley (B)
Your day begins with an energy-boosting breakfast before departing for Taktsang Goemba (monastery), more famously known as "Tiger's Nest". One of the most significant cultural icons of the Kingdom, this highly revered monastery was built on a sheer cliff face roughly 2,950 feet (900 meters) above Paro and is visible from the valley floor. Your GEM will hike up with you to the monastery and share stories of its history along the way. Enjoy the wonderful scenery as you ascend through pine forests that are colorfully decorated with moss and prayer flags. Listen to the sound of prayer wheels turning and leave your good intentions by tying your own prayer-flag and let the wind carry blessings and prayers across Bhutan. During cooler weather, clouds often shroud the monastery, highlighting its sanctity and remoteness. For lunch, a picnic can be arranged and enjoyed the outdoors.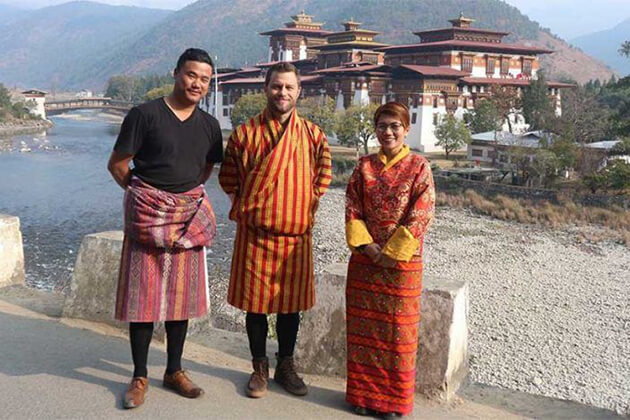 If energy levels and time permit after your descent, visit the colorful Kyichu Lhakhang, a 7th-century sanctuary and one of the oldest religious structures in the Kingdom. It is an absolute gem for historians and art connoisseurs and is said to have two magical orange trees that bear fruit throughout the year. Return to the lodge and take a short stroll over to the 15thcentury Samnteling Monastery situated just next to our lodge. The one-story temple was built in the traditional Bhutanese style using stone and woodwork and features statues as well as beautiful wall paintings of the Buddhist saints. Reflect on your time in the Kingdom as you light auspicious butter lamps and receive blessings from the resident monks. The light from the butter lamps represents the wisdom of the awakened mind and is said to dispel darkness: a meaningful way to bring your time in the Kingdom to a close. (*The Butter Lamp Blessing is optional and can be added to your itinerary upon request.) Later this afternoon, prepare your body for the onward journey with an optional sauna, cold plunge and deep tissue massage at the spa.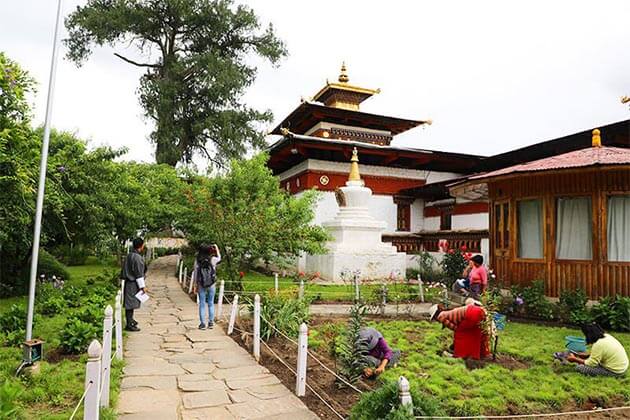 When the sun begins to set, we transfer to the hotel for dinner.  Our chefs will prepare a special Indian menu for you or, for a truly memorable experience, you can dine under a canopy of stars next to the stone ruins of a 15th-century dzong on the grounds of the lodge with our 'Chubjakha Regale Ruins Dinner.' For this special occasion, you can dress in traditional Bhutanese attire (a good for a man and a Kira for a woman) to compliment the atmosphere with candles casting shadows on the stone walls. Live music, folk dances and a traditional Bhutanese menu are highlights of the evening.
(*Dining at the Dzong ruins is optional and may be booked in advance upon request.)
Hotel: Six Sense
Day 07: Departure (B)
After an early breakfast, finalize your packing and say goodbye to your Bhutanese hosts before departing the lodge. From here it is a 30-minute transfer to the airport. Your GEM will accompany you and assist with your departure arrangements.