General Information
Start/ End: Paro/ Paro
Duration: 9 days/ 8 nights
Tour route: Paro – Geynekha – Gur –  Labatama –  Thimphu – Paro
Tour Customizable: Definitely! (Tell us your specific requirements in the inquiry form)
Guides: Local Guide (English Speaking Guide, Other Languages depends on your Request)
Transportation: Private first-class air-conditioned vehicles
Accommodation: Listed below or equivalent. Rooms with private bath or shower, hotel taxes, porterage, tips, and service charges.
Tour Highlights: 
• Reasonable short trek
• Easy access from Thimphu and Paro
• Panoramic views of mountains
• Magical landscape with hundreds of lakes
• Mingle with local herders when coming in summer
• Hike to the holy Jomo (Dagala) peak at 4716 meters high
• All cultural sights of Paro and Thimphu covered
Brief Itinerary
Day 1: Arrival to Paro
Day 2: Paro
Day 3: Drive: Paro – Geynekha/ Trek: Geynekha – Gur
Day 4: Trek: Gur – Labatama
Day 5: Trek: Labatama – Kheri Khewa
Day 6: Trek: Kheri Khewa – Tshokam
Day 7: Trek: Tshokam – Chamgang, drive to Thimphu
Day 8: Thimphu – Paro
Day 9: Departure
Full Itinerary 
Day 1: Arrival to Paro
Kuzu zangpo la! Welcome to Bhutan – the Kingdom of Happiness. Today, take an afternoon flight to Paro. On arrival, meet Go Bhutan local guide at the airport and then we transfer to the hotel. En route, visit National Museum and Paro Dzong (Rinpung dzong), the castle-monastery where Bernardo Bertolucci's Little Buddha film was shot. Walkthrough the busy little town.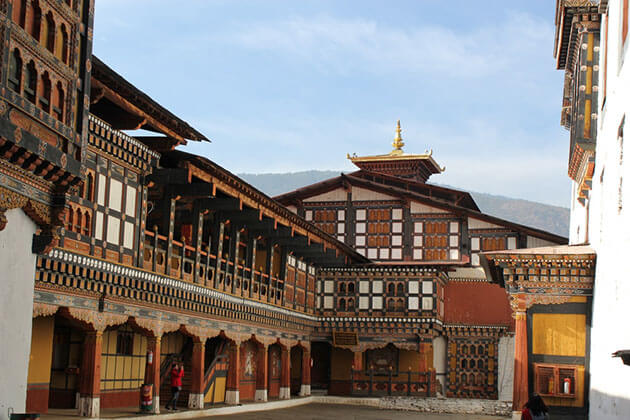 Day 2: Paro
Rise before dawn this morning and take an early drive Drukyel Dzong, the castle ruins from where offer you a stunning view to the summit of holy Jomolhari mountain in clear weather. Highlight your trekking this morning with a climb to Taktsang Monastery (Tiger's Nest). If you don't feel so strong, you can climb just halfway to marvel at the nice view of the place. Then you will stop at Kyichu Lhakhang, one of the two oldest temples in Bhutan. If time permits, your guide might take you to visit the National Museum.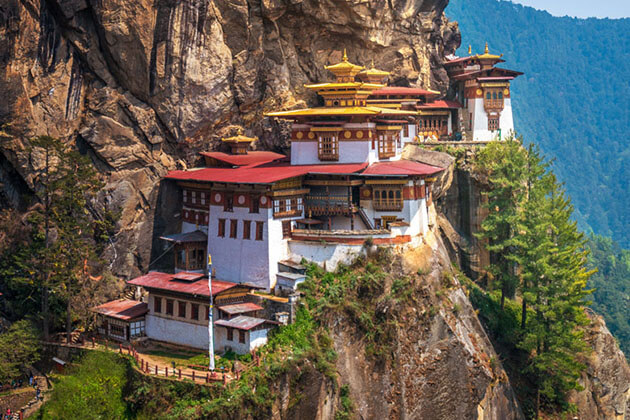 Day 3: Drive: Paro – Geynekha/ Trek: Geynekha – Gur
Today's trek: 6 km, 3-4 hours ↗610m.
Start trekking after 2 -drive to Geynekha village (2900 m). En route, we will stop for a short visit to Tachog Lhakhang to see the bridge rebuilt with old chains smithed by ancient saint and bridge-builder Thangton Gampo. As we reach to Chuzom, the confluence of Paro Chu and Wang Chu rivers. From here, ascend to the hill by feeder road to reach Geynekha village which situated on 2300 meters. The area was rich in trade and mining iron ore and other minerals. You will visit the ruined castle Genye Dzong. From here, start ascending gently up until we reach Geynizampa which is sometimes is where people use as a campsite. Continue to climb through the beautiful oak forest. After climbing about 1-1.5 hours, you will reach the viewpoint at 3200m. Finally, you will reach to the top of the ridge in 3350m. Spend a night at the nearby campsite.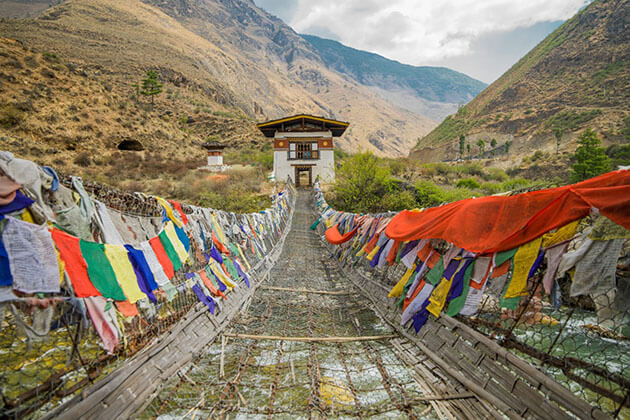 Day 4: Trek: Gur – Labatama
Today's trek 13km, 5 hours, ↗820m, ↘200m.
Wake up in the sound of birds singing this morning and then continue climbing through the forest until you reach mountain pastures in elevation 3440m. You will reach to herder huts settlement in 3710m called Gibze Kebze, sometimes also used for camping.
After crossing a few creeks and further ascending you'll reach a small saddle and soon after cross the Pagalabtsa La pass (4170m). Here, marvel at the shattered mountain landscape in front of you with the panorama of the Dagala range. From here, the trail is a bit tricky. You should continue to the east in direction of two herder stone houses of watching hamlet. Trek through the ridge, cross the smaller saddle and descend to the beautiful valley with few herders' huts. You will reach Labatama (4050m), a possible camp. In summer months this place is full of local herders camping and grazing their animals. It's also the junction of trails heading north-east to Thimphu and south to Dagana. You can still spend some time exploring the surrounding areas.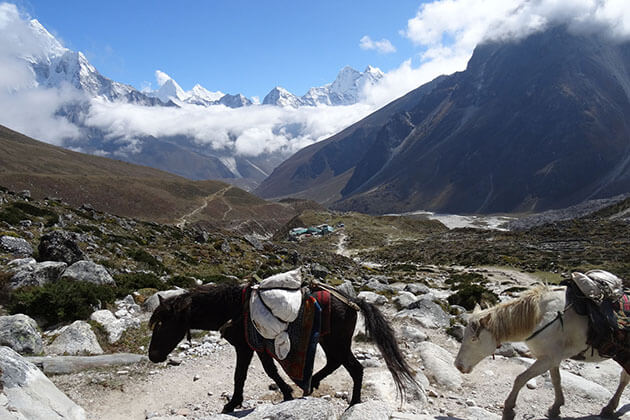 Day 5: Trek: Labatama – Kheri Khewa
Today's trek 11km, 6-7 hours, ↗436m, ↘686m (high route).
Today delivers you with two great options: to go easier lower route along with your horses and staff or take more demanding and also rewarding high route. For adventurers, we strongly recommend the high trail. That will lead you along with the passing around Serbho Tsho Lake and some other lakes. It's said that there are 108 lakes (a sacred number) in this area. Finally, you reach a pass in 4520m and if you like, you can continue your trekking route to Jomo (Dagala) Peak viewpoint (4716m). This is the abode of Aum Jomo goddess of Dagala who said to be great fond of young men but despises monks and women. In clear weather, you can see an incredible view of Jomolhari and Kanchenjunga peaks. Now descend down from the pass to the herder's campsite in around 4350m and reach a lower route near Dochcha Chhu stream. After descending from the pass and again joining the lower route, you will continue walking through pastures with nice views. Finally, you reach camp Kheri Khewa.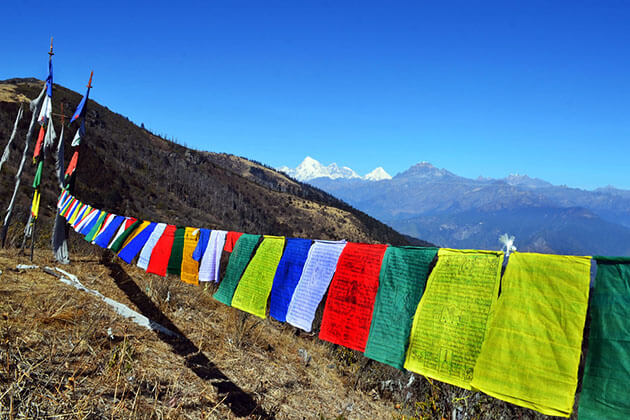 Day 6: Trek: Kheri Khewa – Tshokam
Today's trek 10km, 6-7 hours.
This morning, take another hiking through the magical landscape of Dagala. We have some moderate distance to cover this day, so you don't need to hurry. We will cross the pass over 4200 meters pass, getting dramatic views of the mountain ranges. Finally, we will descend through the changing vegetation to Tshokam, "the dried lake", where we spend the last night of the trek.
Day 7: Trek: Tshokam – Chamgang, drive to Thimphu
Today's trek 8km, 4 hours.
Today will be a tiring day for your knees. The Chamgang Vehicle will be waiting for you, so this will be the time to say goodbye to your staff and horses. Drive down and you will see the first dzong in Bhutan built by country's unifier Shabdrung Nawang Namgyel. On arrival to Thimphu, take a short rest. You might like to try a massage in some of the hotels. Spend the day in rest or other optional activities.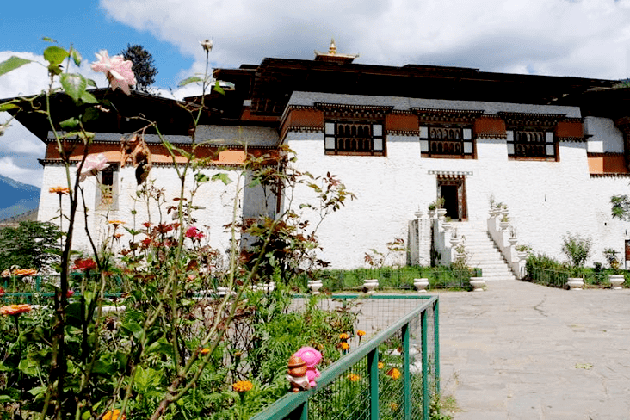 Day 8: Thimphu – Paro
This early morning, drive to Buddha Dordenma, the gigantic statue of Buddha overlooking the valley. Walk-in Norzin Lam Street and observe the traffic police signaling injunctions. Thimphu is only capital in the world you won't see the traffic lights at any corners of the street. Finish walk at a handicraft market where many lovely Bhutanese souvenirs can be seen and bought for a reasonable price.
Leave the market, continue to visit the Folk Heritage Museum with the exhibition on traditional village life in Bhutan (Note: the museum is closed on Sunday, alternatively visit Simply Bhutan museum). You will also visit hand paper factory a Thangkha painting center, where young artists learn the skills of their forefathers.
After that drive to Changankha Lhakhang, the oldest place of worship in the valley. Fulfill your trip to Thimphu at Tashichho Dzong, the castle, which serves as the seat of the king and government. Evening drive to Paro.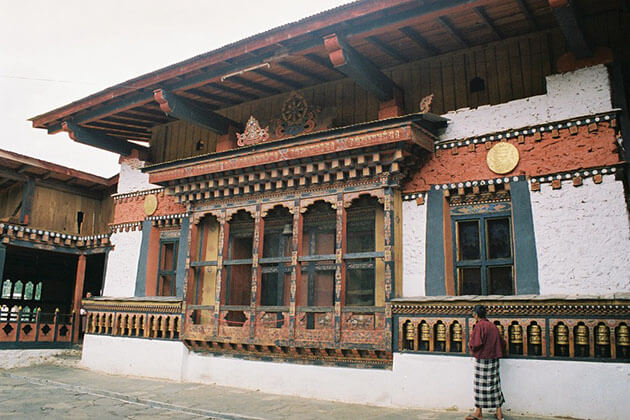 Day 9: Departure
This morning, enjoy your breakfast at the hotel and enjoy the rest of the day at leisure until the driver comes to pick you up to transfer to the hotel for your departure flight. Bhutan tour ends.