General Information
Start/ End: Samdrup Jongkhar/ Samdrup Jongkhar
Duration: 6 days/ 5 nights
Tour route: Samdrup Jongkhar – Tashigang – Tashiyangtse –  Tsengkharla –  Omba – Jangphu – Gongza –Tashigang – Samdrup Jongkhar
Tour Customizable: Definitely! (Tell us your specific requirements in the inquiry form)
Guides: Local Guide (English Speaking Guide, Other Languages depends on your Request)
Transportation: Private first-class air-conditioned vehicles
Accommodation: Listed below or equivalent. Rooms with private bath or shower, hotel taxes, porterage, tips, and service charges.
Brief Itinerary
Day 1: Guwahati – Samdrup Jongkhar – Tashigang
Day 2: Tashigang – Tashiyangtse – Tsengkharla
Day 3: Tsengkharla – Omba
Day 4: Trek Omba – Jangphu
Day 5: Trek Jangphu – Gongza, drive to Tashigang
Day 6: Tashigang – Samdrup Jongkhar and onward to Guwahati
Full Itinerary 
Day 1: Guwahati – Samdrup Jongkhar – Tashigang
Early morning at 5 o'clock you'll be picked-up in Guwahati, driving to Samdrup Jongkhar. Here you'll meet your Bhutanese guide and driver, who will manage all immigration formalities. Then you'll take a drive to the Himalayas.
After a few hour drives, we'll stop to urge blessing from Hindu hermit for the safety of our journey. Soon after you'll have the opportunity to see many charming Bhutanese Buddhist temples stop for a short visit to Zangto Pelri Lhakhang, with detailed mural painting.
In the afternoon, you'll stop in Khaling village to go to the National Handloom Development Project, which maintains the rich tradition of local weaving. Also, you'll pay a visit to the National Institute for the Visually Impaired. One of the accomplishments of this progressive institution is that the development of the Bhutanese version of Braille's script. Along the way, you'll also travel by Karma Thegsum Dechenling Goemba, a huge monastery school and Sherubtse College, the first Bhutanese university campus established in 1978. Also, we visit the temple in nearby Kanglung village. Reach to Tashigang within the evening.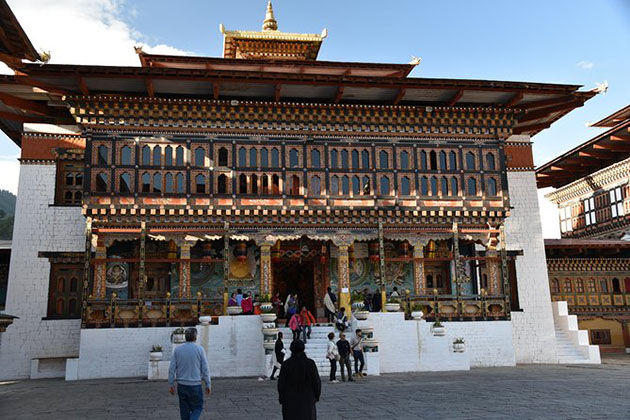 Day 2: Tashigang – Tashiyangtse – Tsengkharla
This morning, visit of Trashigang Dzong which was inbuilt 17th century and has a commanding view of the valley. Inside are a few interesting temples and native government offices.
From here, you'll take about 2 hour drive time to Trashi Yangtse. Pass through the Gom Kora temple, which you shall visit the next day before the trekking start. Further drive will offer occasional views of snowy mountains in clear weather.
Next, you'll see the impressive building of the old Trashi Yangtse Dzong which is home to 300 monks. The dzong won't protect the former trade route with Tibet and was established by the saint Pema Lingpa of the 15th century. Near the Trashi Yangtse is that the famous Chorten Kora, the most important stupa in Bhutan inbuilt Nepali style. This is often the location of two colorful local festivals at the start of the year. In the winter season, it's worth to continue to drive to Bumdeling birds reserve further to the north because the rare Black Neck Cranes could be spotted here if you're lucky. Trashi Yangtse is additionally home to the National Institute for Zorig Chusum, the varsity where the children learn the art crafts of their forefathers to stay Bhutan's traditional arts alive.
Then drive slightly back to Gom Kora, the place where 8th-century magician-saint Guru Padmasambhava left his body imprints. Continue to drive to Tshengkharla in altitude of 2040m. Here you'll spend first-night camping.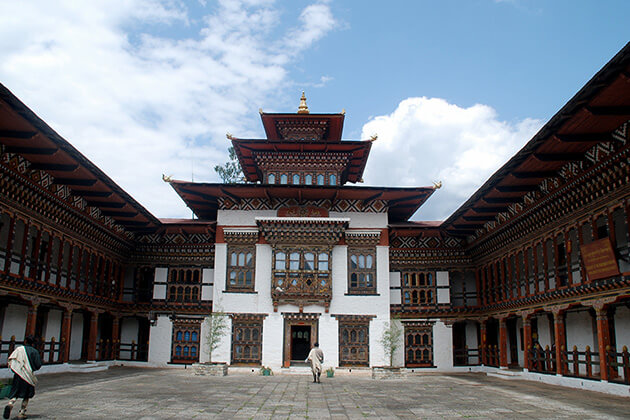 Day 3: Tsengkharla – Omba
Trek 14km, 5 hours, ↗500m, ↘540m
In Tsengkharla you'll see the ruins of the dzong (castle), allegedly the primary to be ever inbuilt Bhutan, by exiled Tibetan king Lhasey Tsangma in the 9th century. Here we start the trek. On the way, we'll take light pack lunch. The narrow trail will take you around several temples and thru maize fields. On the way see Septshekhang Lhakhang on the rocky cliff. Finally, descend through fields and forests to Omba village. Here is that the simple guest house where you'll spend the night (subject to availability, if rooms are out, you would possibly be got to camp). Visit the neat village and luxuriate in the scenic surroundings. Sleep in elevation of 1920m.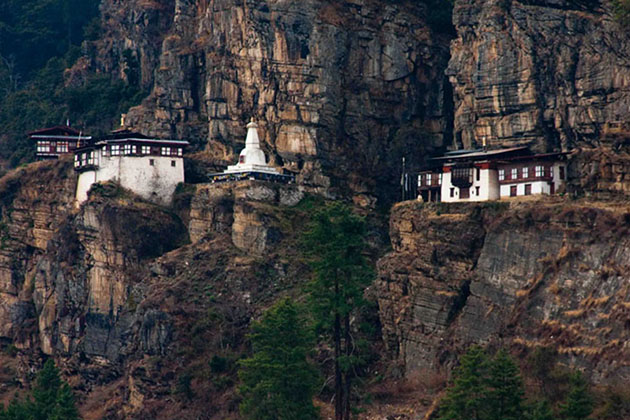 Day 4: Trek Omba – Jangphu
Trek 11km, 4-5 hours, ↗440m, ↘200m.
Omba Nye is the monastery, which is named "Tiger's Nest of the east" for its similar setting on the rocky cliff. Today you'll start the hike up to there. It's said that 8th-century magician-saint Guru Rimpoche had meditated here for two months subduing the demon whose name was Phurba Trashi. Various imprints of Guru Rimpoche are often found on the way. After reaching the temple see the holy places then continue slowly descending and eventually reaching the village of Jangphu. Another farmhouse, where you'll spend an evening is out there here. Sleep within the elevation of 2130m.
Day 5: Trek Jangphu – Gongza, drive to Tashigang
Trek 21km, 7-8 hours, ↗250m, ↘1350m.
Today is going to be a long day walk reaching back to the road. you'll go around fields and forest, crossing Old Kheni village and still Gongza Gompa, another holy and really peaceful place built beside the mighty Gongri river. Many interesting relics are to be found here, like the demon's heart, the shoe of Guru Rimpoche and devil's egg. Finally, reach the road head at Doksum. The car is going to be expecting you here and can drive you back to Trashigang.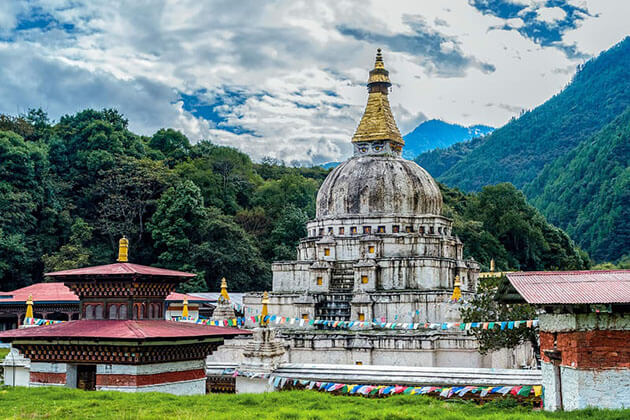 Day 6: Tashigang – Samdrup Jongkhar and onward to Guwahati
This will be all day drive descend from the Himalayas southwards to the Indian border. you'll start early within the morning, going an equivalent way you came here on day one, going around Yongphula airport and Sherubtse university. do not forget to prevent an additional blessing at Damthang before reaching Smadrup Jongkhar. After immigration formalities, you'll tell goodbye to your Bhutanese guide and driver and Indian counterpart will drive you to Guwahati. Bhutan holiday package ends.