Greetings and etiquettes play an important role in the traditional custom and spiritual life of everyone in every country and absolutely Bhutan is not an exception. Greetings and etiquettes express the essence and the good behavior of the people through time. Planning a trip to Bhutan from India, it is essential to master both to avoid misunderstanding and better interact with the local people in your Bhutan tours. To have an insight into the Bhutanese greeting and etiquette, you have to notice that Buddhism has a great influence on the country that makes the relationship closely and creates a unique custom, lifestyle, as well as code of behavior. The article will show you detailed things to know about greetings and etiquettes in Bhutan. Moreover, let check out some useful phrases for Indian travelers on Bhutan travel packages.
Bhutanese Greetings
Just like most Asian countries, Bhutan has its own community traditions with the special code of behaviors which is quite different from the Western. Since Buddhism is the national religion in Bhutan, the basic rule of greetings is greatly influenced by such religion, Let's check it out:
Common Greetings in Bhutan
Hand-shaking is not a tradition in Bhutan but it is becoming common, especially in the towns. A formal greeting you can easy to see is to bow with hands open and outstretched and the palms up. However, Bhutanese women don't shake hands among themselves and don't even offer their hands when introduced to men as a little smile is enough to substitute for this gesture of greeting a Bhutanese woman.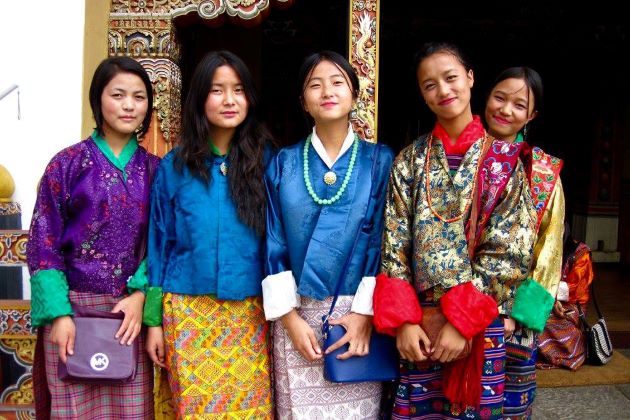 Additionally, a Bhutanese host greets a guest by bowing slightly, extending his or her hands towards the ground with palms facing the visitor, and moving the hand in a gesture inviting the guest into the house.
Useful Bhutan Phrases for Indian Travelers
Namaste: Kuzungpo la
Shukhriya / Dhanyavaad: Kadrin Cheyla
Yes: Inn
No: Men
Ek: Ching
Do: Ngee
Teen: Sum
Chaar: Shiee
Paanch: Ngaa
Cheh: Drug
Saat: Duen
Aath: Gay
Naun: Guu
Das: Chu Tham
Aapka naam kya hai? – Chhoe gi ming ga chi mo?
Aap kaise hain? – Ga day bay ye?
Mera naam … – Ney gi ming … inn la
Do Bhutanese People Understand Hindi?
If you are Indian travelers and you haven't come to Bhutan then you could probably find surprising that most of Bhutanese, especially youth can speak Hindi, English, Nepali and bit of Tibetan. From our younger age, we were taught about India, we had a subject as Indian history; where we learn different historical era about India.
India and Bhutan have a very strong diplomatic tie-up for so many years. And Bhutan receives the highest beneficiary among other neighboring countries from India. India has not only to help in developing Bhutan's economic growth but also help in manpower. Most of the construction workers in Bhutan were Indian laborer and we get to contact them. That could the reason why Bhutanese can speak Hindi really well.
Bhutanese Etiquettes
Visiting Bhutan, you will notice that Buddhism is practiced throughout the country that sets up the unique customs and it is necessary for travelers to follow some basic rules of Bhutanese customs when coming to the country:
Visiting Religious Places
When you go to religious places, shoes should be removed before entering any dzong, Goemba or religious building. Photography is completely banned inside chapels but is usually permitted in temple courtyards. Remember to walk around chortens and shrines in a clockwise direction. Prevent revealing clothing – locals dress modestly so follow their lead.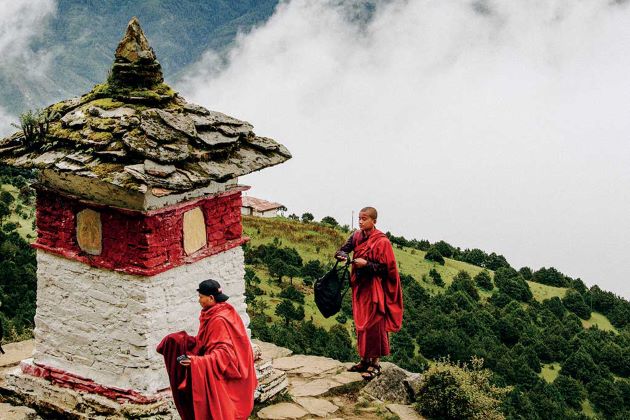 Personal Space & Physical Contact
Never touch the crown of the head of a young child as this is considered a special part of the body. You are considered so rude to touch anyone on the head or point your feet towards someone. If you are sitting on the floor, let cross your legs or kneel so that your feet will be pointed behind you. If you happen to go to bed in a room where there is an altar or statue, make sure that your feet do not point toward it. Shaking hands is common in urban areas, but the traditional Bhutanese greeting is a bow with the arms low and outstretched.
Social Etiquette
If you are going to dine out with a group of people, wait until everyone has been served before you start. If you offer something to a local person – a tip for your guide or driver, for instance – it is customary for them to initially decline the offer before they accept.