A majestic kingdom – Bhutan is truly a colorful Buddhist nation being known for its serene natural landscapes and spirituality. There are many religious sites here and the locals are friendly and loving. If one asks me which is one of the main features of the Bhutanese culture and economy, I would like to say that are special items and handicrafts that tourists prefer to purchase on their Bhutan trips. Bring home the essence of this destination in the form of these items. Read on to know more about what you can buy here.
Wooden Souvenirs to Buy in Bhutan
Colored Carved Masks
Are you looking for Bhutan souvenirs that contain the value of the country's culture? Well, let take a look at these Bhutanese Style Traditional Mask. Since the 8th century, the tradition of wearing masks became popular in Bhutan. Festival is a very important component of the culture & spirituality of this country and an occasion where the masks are used. Especially in the biggest Bhutanese festival – Tsechu, where the monks perform exciting dances while wearing colorful masks.
Wooden Products
Indeed, Bhutan has a huge forest cover, most of its products are made from natural materials. The most prevalent is the wood found in the Bhutanese forests. You can find so many different items made of intricately carved wood like utensils, cabinets, jewelry boxes, mirror frames, and tables. If you are wondering what to buy in Bhutan, these items are the safest bet as the wood found in the country is of prime quality. Actually, there are many places where you can buy these items.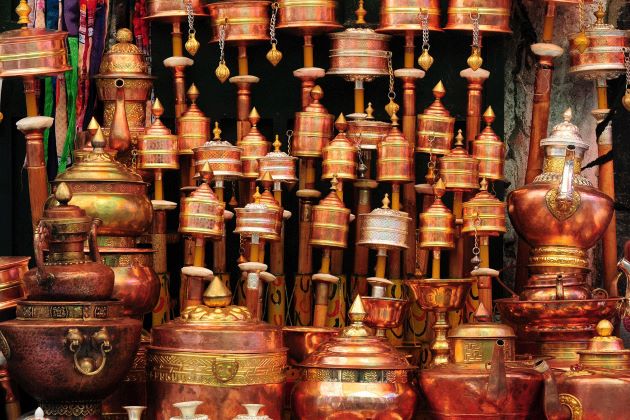 Dappa
Dappa or Handmade Wooden Bowls is one of the best things to buy in Bhutan. The amazing thing about this item is that it is a handmade product. Dappa can be purchased almost anywhere in the country. This is due to the fact that it is used by almost every household in the country on a daily basis.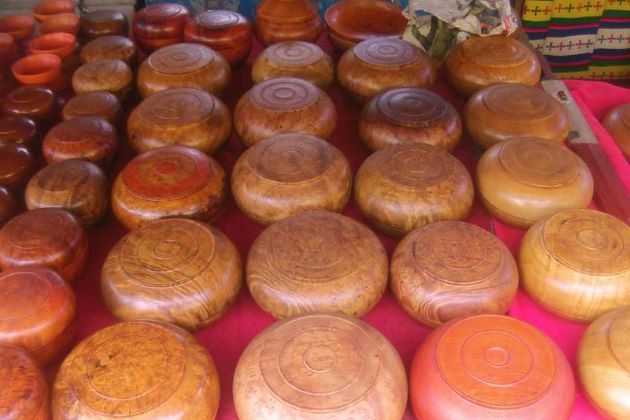 Dzi Beads
How about this thing, the colorful Dzi Beads? It is also known as the Himalayan beads, used in the making of accessories like necklaces, bracelets, etc. You can easily see that there are different patterns to them from ovals, circles, stripes, squares, waves, lines, zig-zags, dots, diamonds, to other symbolic patterns. You would be surprised at knowing that these beads are the most expensive beads found on the face of the earth. It is believed that these beads are the creations of god and they bring luck and ward off evil spirits. You can also find the cheaper versions in the local markets.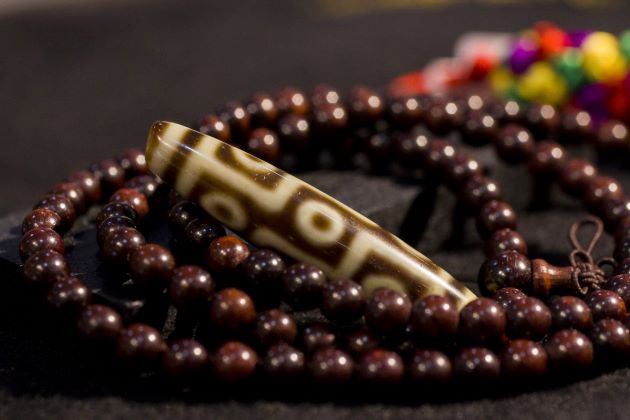 Handicraft Souvenirs to Buy in Bhutan
Cane & Bamboo Handicrafts
In order to answer the question of what to buy in Bhutan, let check out this one. Cane and bamboo are the most popular handicraft items that are available here. There are a plethora of shops in the country that sell these items. There are floor mats, baskets, utensils, wall-hangings, and much more. Indeed, there is a usage of natural dyes as well to help make these products.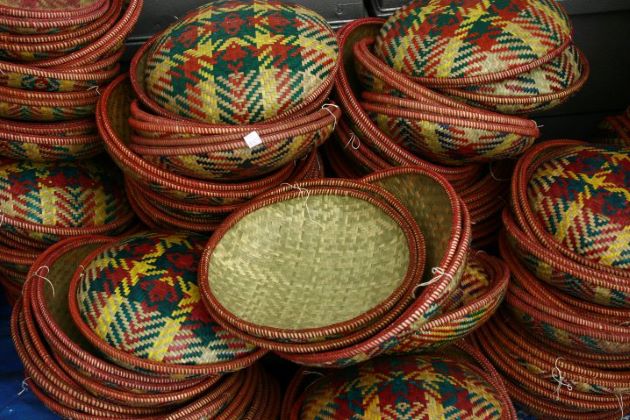 Hand-woven Textiles
Out of so many Bhutan souvenirs to buy, the hand-woven textile is the most popular one. The locals are known for their amazing artistry and craftsmanship. They use different materials like cotton, raw cotton, and silk to make different textiles. There are plenty of villages that make different kinds of textiles using varied materials.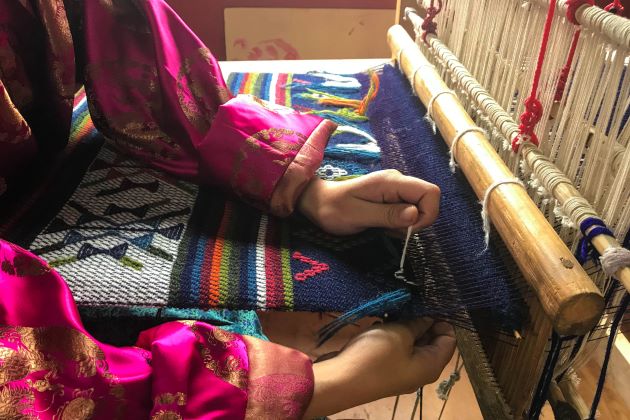 Sculptures & Buddhist Paintings
This one is really popular out of these things to buy in Bhutan. Bhutan is a Buddhist kingdom; thus, these items are easily available in the local markets. There is the use of minerals as well as clay in order to make these items. Adorn your own property and office with these colorful pieces of artwork purchased on your vacation to Bhutan.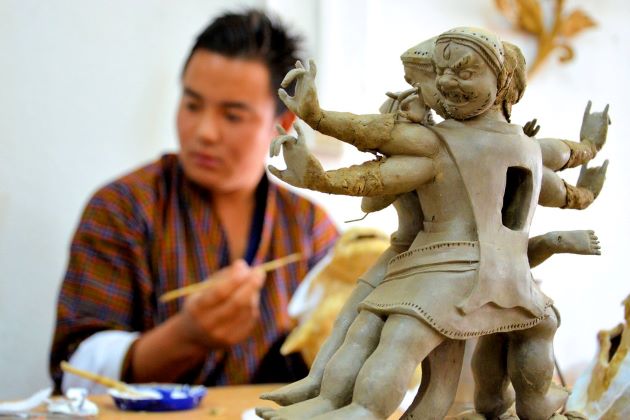 Bhutanese Handmade Paper
Till now, you can see there are many things to buy in Bhutan right, and out of which, Daysho or Bhutanese paper is quite popular. As said, Bhutan has a huge forest cover that covers about 72% of the total land area. This is brought into great use by the people here into making many items. There are many uses of this paper – legal agreements, printing scriptures, and painting manuscripts. Gift papers, diaries, greeting cards, and notebooks are made using this paper.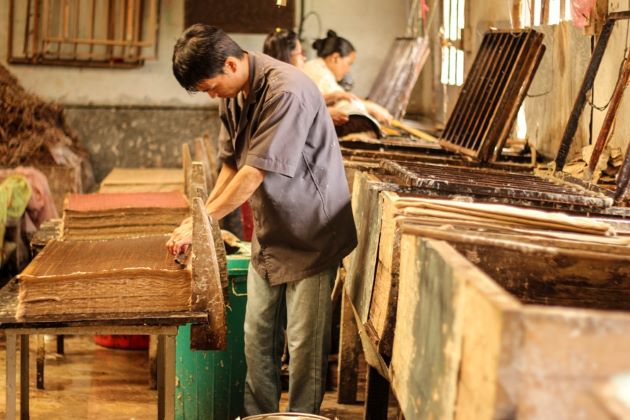 Other Best Bhutan Souvenirs
Yathra
This one is really interesting that I am sure you will be attracted. The traditional woven woolen cloth products – Yathra belongs to the Chumey valley in Bumthang. The females use traditional handlooms in order to make these textiles with intricate patterns and vibrant colors. These stunning outside-look of Yathra are made of yak wool and sheep wool dyed with natural colors. Yathra is made into a variety of clothing like coats, bags or scarves. They are also great for making modish décor items such as wall hangings, rugs, cushion covers or table runners, which are a great way to bring a little Bhutanese style into your home. This stuff is super cool, even men can put on it.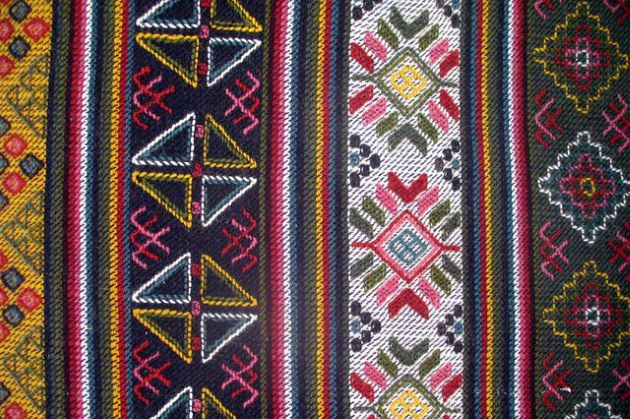 Jewelry & Ornaments
A few of the best Bhutan souvenirs to buy include the likes of jewelry and accessories. The type that is crafted using gold and silver is of prime importance to the Bhutanese locals, especially the women. There are different designs that are varied and intricate. Expert and skilled craftsmanship go into the creation of these jewelry pieces. The items available are arm adornments, earrings, necklaces, etc.