This article is for those who are planning to enjoy Bhutan holiday packages or looking at a potential currency exchange to know more about the Bhutanese currency. Whether you're traveling from India or another part of the world, this is everything you need to know about the Bhutan currency.
What Is Currency in Bhutan?
Ngultrum is the officially accepted currency of Bhutan. It is used for all economic trades at a professional level as well as at a local level. The Bhutanese currency code is BTN. The symbol is Nu. 100 cents make up 1 BTN. Chhertum is the way cents in Bhutan are called.
How to Recognized Ngultrum – Bhutan Money
Bhutan Currency – Notes
The Bhutanese currency notes acceptable in the country are BTN. 1, BTN. 5, BTN. 10, BTN. 20, BTN. 50, BTN. 100, BTN. 500 and BTN. 1000. The notes of Ngultrum have something related to Bhutanese culture imprinted on them. The backside of each note has a picture of Dzong. For instance, a BTN. 500 note has a picture of Ugyen Wangchuk along with a Raven Crown on the front side. A picture of majestic Punakha Dzong is printed at the backside. all value notes have this pattern and each of them having a different picture.
Bhutan Currency – Coins
About the form of coins, value coins available in Bhutan are BTN 0.2, BTN 0.25, BTN 0.5 and BTN 1. All of them, except for BTN 0.2, have letters "Royal Government of Bhutan" which are carved on them. BTN 0.2 is carved with the "Food for All" on it.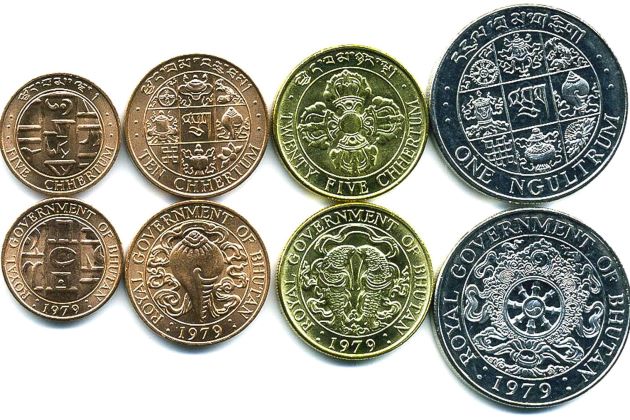 Exchange Rate from Bhutan Currency to Indian Currency
The fact that the Indian currency – Rupee (INR), is readily accepted in Bhutan. So the exchange rate from Bhutan currency to INR is 1 Rupee = 1 Ngultrum. However, the higher value notes like INR. 500, INR. 1000 or INR. 2000 are not accepted. So, using the official currency for higher-value transactions is highly recommended.
Prices of Common Things in Rupee – INR
A water bottle – INR 25
A meal at an Inexpensive Restaurant – INR 275
A liter regular milk – INR 65
A bottle of beer – INR 70-150
A liter of gasoline – INR 59
1-minute Call charges for a prepaid plan – INR 1.23
A 500 grams loaf of white bread – INR 68
As seen, the currency of Bhutan is not accepted in any other country for transaction purposes. So, exchanging all the Ngultrum value notes before leaving Bhutan at the Paro International Airport is highly recommended.