General Information
Start/ End: Paro/ Paro
Duration: 9 days/ 8 nights
Tour Route:  Paro – Thimphu – Punakha – Phojikha – Trongsa – Bumthang – Wangdue Phodrang – Tiger's Nest Monastery
Tour Customize: Definitely! (Tell us your specific requirements in the inquiry form)
Guide/s: Local Guide (English Speaking Guide or Other Languages depends on your Request)
Transportation: Private first-class air-conditioned vehicles
Accommodation: Listed below or equivalent. Rooms with private bath or shower, hotel taxes, porterage, tips, and service charges.
Brief Itinerary
Day 1: Paro Arrival – Thimphu
Day 2: Thimphu Sightseeing – Punakha
Day 3: Punakha – Phojikha
Day 4: Phojikha –  Trongsa
Day 5: Trongsa – Bumthang
Day 6: Bumthang – Wangdue Phodrang
Day 7: Wangdue Phodrang – Paro
Day 8: Paro – Taktsang (Tiger's Nest)
Day 9: Paro Departure
Full Itinerary
Day 1: Paro Arrival & Driving to Thimphu / About 1.5 hour of Driving
Welcome to Bhutan! Upon arrival, you will be greeted by your local travel guide and driver then to Paro Town. Firstly, visit Bhutan National Museum where you are going to learn a crash course in Bhutanese rich culture and history. There are many impressive collections displayed in its five galleries, including traditional thangkas, festival masks, religious statues, interesting carvings, etc.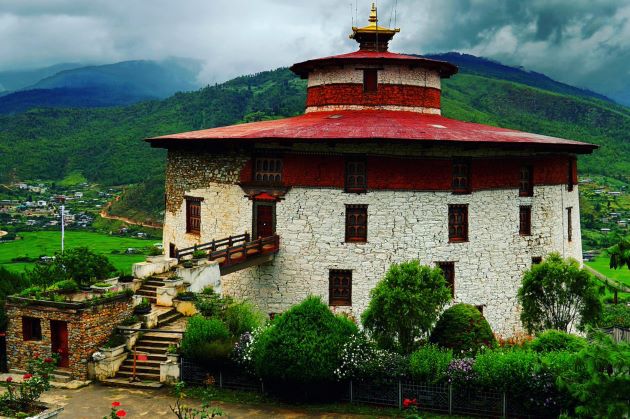 Your next attraction is Rinpung Dzong, also known as Paro Dzong, which is reputed as the finest example of Bhutanese dzong. After appreciating these charming architectures in Rinpung Dzong, you could take a leisure walk through cantilever bridge and to Paro Town and witness national game archery, which is played almost every day on the ground. After the sightseeing, drive about 1.5 hours to Thimphu, the capital of Bhutan Kingdom, for accommodation.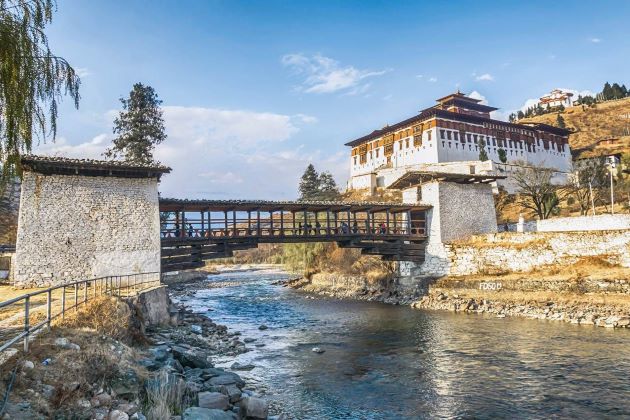 Day 2: Thimphu Sightseeing & Driving to Punakha / About 2.5 hours of Driving (B)
In the morning, start the day by visiting the National Memorial Chorten (shrine), a monument dedicated to the past 3rd king of Bhutan, Jigme Dorji Wangchuck. More than a memorial stupa, it is also one important religious center for Bhutanese daily worship. Then visit Traditional Painting School, a school where students are taught to make Bhutan's 13 traditional arts and crafts, like painting, woodcarving, embroidery, statue-making…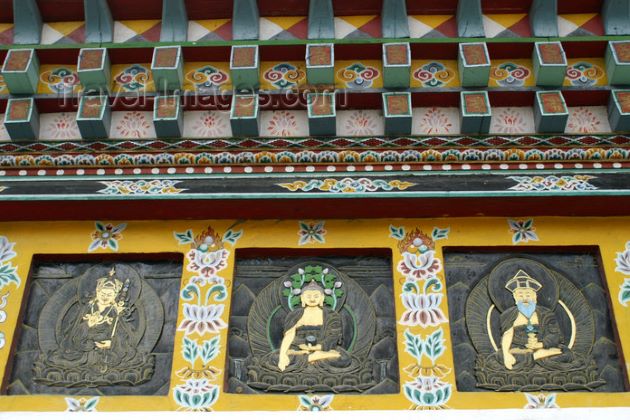 Next, reach the National Textile Museum which is a good place to display textile weaving – Bhutan's living national art. You can not only feast on the beautiful costumes, but also learn about the type of textiles, the styles of local dress and the techniques of weaving. The last activity of today is visiting the national animal – Takin in Motithang Takin Preserve, a unique looking animal with the head of sheep and body of cattle.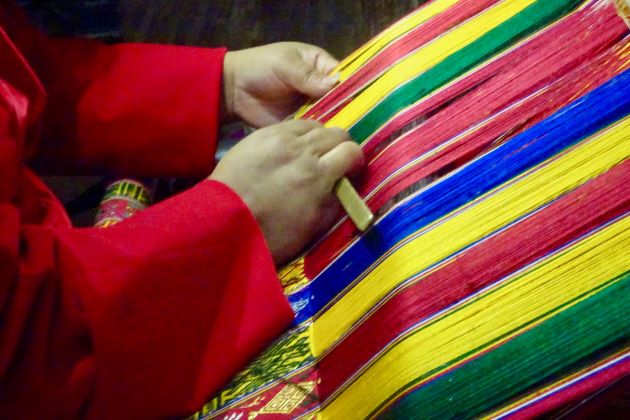 Leave Thimphu and drive through a forest of pine and hemlock, up to cross over the Dochu La Pass where you can enjoy the panoramic views of the majestic Himalaya Mountains. Keep driving along the winding road to the fertile valley of Punakha for an overnight.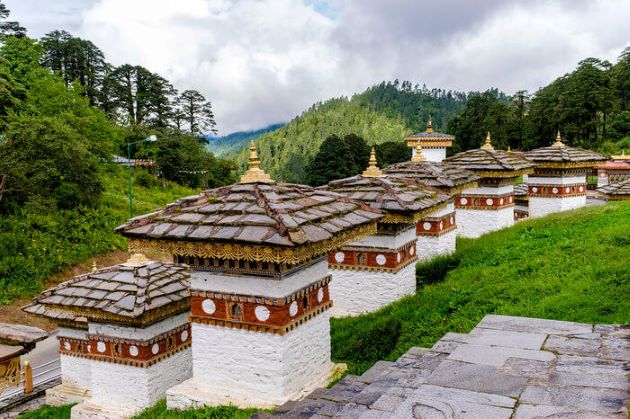 Day 3: Punakha to Phobjikha / About 3 hours of Driving (B)
After breakfast, visit Punakha Dzong, situated between Pho Chhu and Mo Chhu (male and female rivers) and featuring in three docheys (one more than other dzongs). With white-brilliant walls, red roofs, and the surrounding charming nature, Punakha Dzong is praised by as the most beautiful one in Bhutan's 21 Dzong. When the spring comes, the surrounding lilac jacaranda trees in blossom make Punakha Dzong more impressive.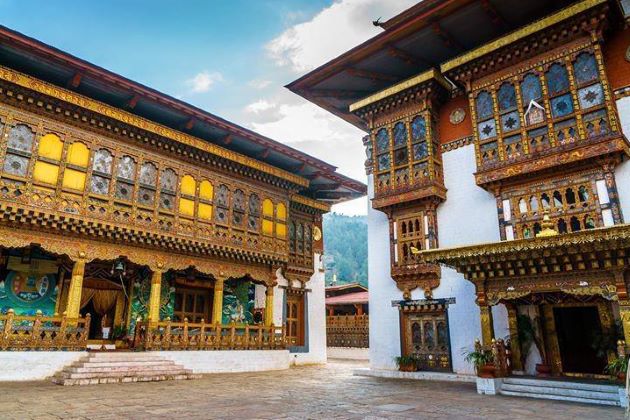 Next, drive toward Phobjikha Valley. In route, get amazed by the beauty and serenity of the rich flora and fauna. When you reach Lawala Pass, you may spot some Yaks grazing in high altitude bamboo shrub along the road. Crossing the pass, you will descend to Gangtey Goempa, an important monastery of Nyingmapa school of Buddhism located on a forested hill overlooking the entire Phobjikha valley. The whole complex of Gangtey Goempa is made up of central monastery, monks' quarters, and guesthouse and meditation centers.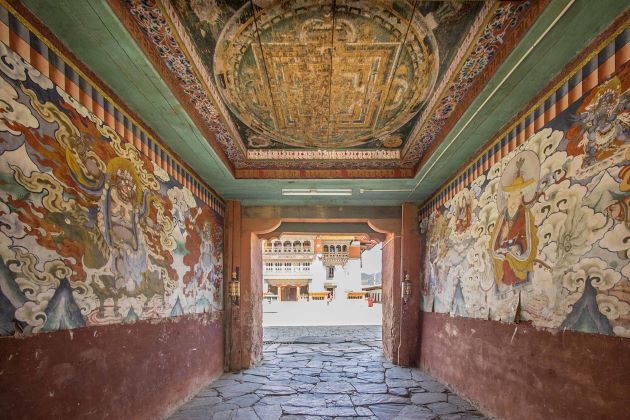 Then pay a visit to Black-Necked Crane Information Center where you can learn much knowledge of the cranes and their living environment from the informative displays and see many black-necked cranes as well. Overnight in Phobjikha.
Day 4: Phobjikha to Trongsa / About 3.5 hours of Driving (B)
Today, travel to Trongsa – the center of Bhutan historically and geographically. Enjoying a typical alpine environment, Trongsa is grown with various bush rhododendron trees and dwarf bamboos. In the valley, your eyes will be caught by the huge fortress of Trongsa Dzong. The first two kings both ruled Bhutan from Trongsa Dzong, so it becomes a tradition that the crown prince serves as Trongsa Penlop before acceding to the throne. In the dzong, there are 23 independent lhakhangs with fine design and exquisite decoration.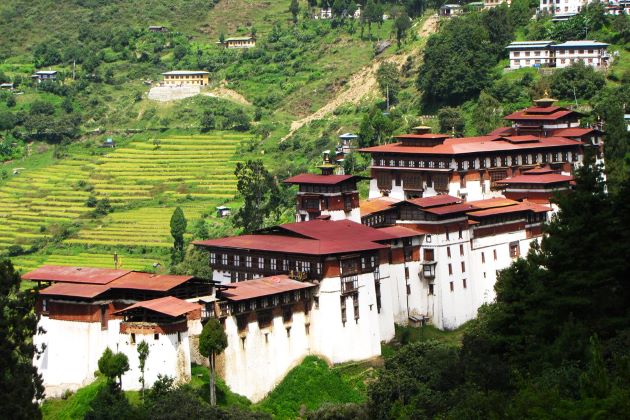 After that, head to the old tower of Trongsa, present Royal Heritage Museum with five floors exhibiting the precious Buddhist arts and royal collections. Stay overnight in Trongsa.
Day 5: Trongsa to Bumthang / About 2.5 hours of Driving (B)
Today, the journey to Bumthang. The road zig-zags rapidly above Trongsa but the surrounding scenery is great. As you reach Yotong La Pass (3,425m), you can see a Buddhist Stupa in Tibetan style and many colorful fluttering prayer flags. Driving downhill, arrive at Tsugney Village to witness traditional Yathra weaving.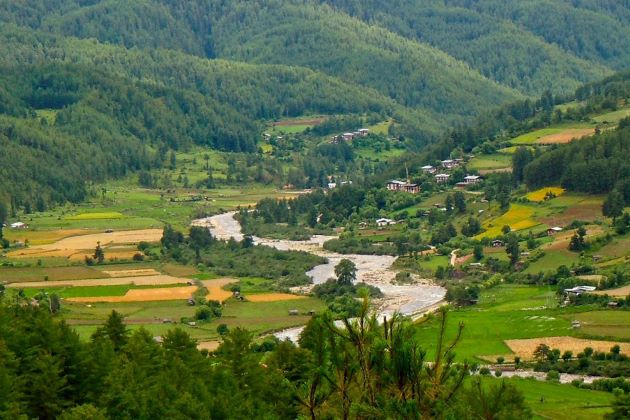 Next, drive to Jakhar, the main town in Bumthang. Upon arrival, visit Jambay Lhakhang, a monastery built by the Tibetan King Songtsen Gampo in 659. It is said that Guru Rinpoche once visited this temple, so the Sindhu Raja renovated it after Guru Rinpoche saved his life. The inside hall is housed the statue of Jamba, the future Buddha, with his feet on the elephant. You can also admire the elegant murals in this temple. Overnight in Jakar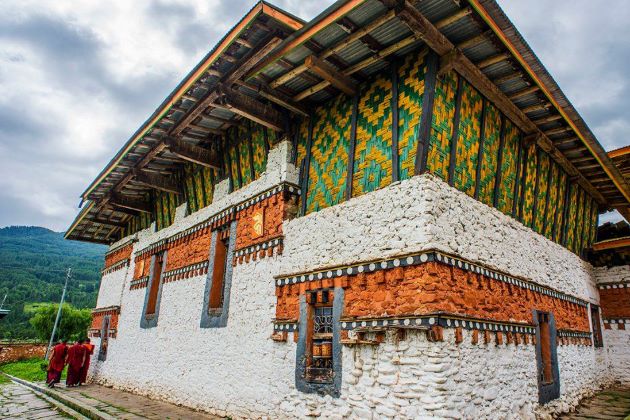 Day 6: Bumthang to Wangdue Phodrang / About 7 hours of driving (B)
Today, you will have a long drive from Bumthang to Wangdue Phodrang via Pele La Pass. The picturesque views can be seen as well. When reaching Pele La Pass (3420m), a brilliant stupa with colored prayer flags will come into your eyes. Passing through the pass, you will get to a viewing deck which offers an amazing view of Mount Jomolhari and Jiuchu Drake. Overnight in Wangdue Phodrang.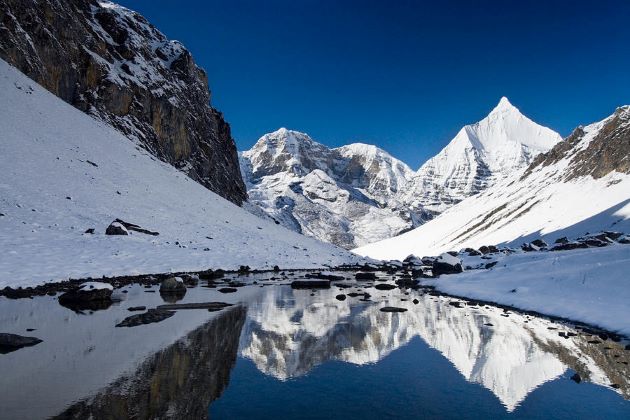 Day 7: Wangdue Phodrang to Paro/ About 3 Hours of Driving (B)
Start today's journey in the early morning with a visit to Wangdu Phodrang Dzong, where you can get a commanding view of the below valleys. In fact, Wangdu Phodrang Dzong enjoys an important status in history as well, and it was the second capital city in the early days. Since Wangdu Phodrang is situated on the ridge, you can walk down to the bridge and have a short hiking to the village of Rinchangang. After the wonderful sightseeing, drive to Paro via Dochula Pass again. Accommodate in Paro.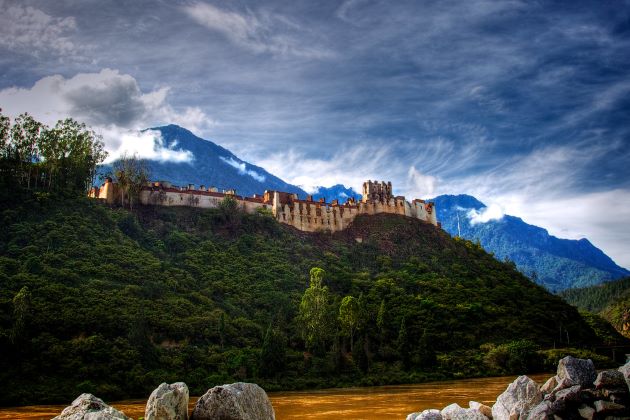 Day 8: Paro – Taktsang (Tiger's Nest) / About 20 minutes of Driving & 2.5 Hours of Trekking (B)
Start the day with a short drive to Paro's upper valley. If the day is clear, you'll have an unforgettable view of the "Goddess" – Mt.Chomolhari. Afterward, it's a short drive to Taktsang trail ahead. Take a challenging but necessary around 2.5 hours of trekking to Taktsang Monastery, the most famous monastery in Bhutan, also known as "Tiger Nest Monastery" because Guru Rinpoche reportedly flew to the site on the back of a flying tiger late in the 7th century. Between blue pines and a blue sky, the monastery perches miraculously on a cliff nearly 2,700 feet above Paro's valley floor. Break along the way for tea and snacks in a small tea house, and the view of both Taktsang Monastery and Paro Valley is magnificent. Hike down the mountain, then drive back to Paro for overnight.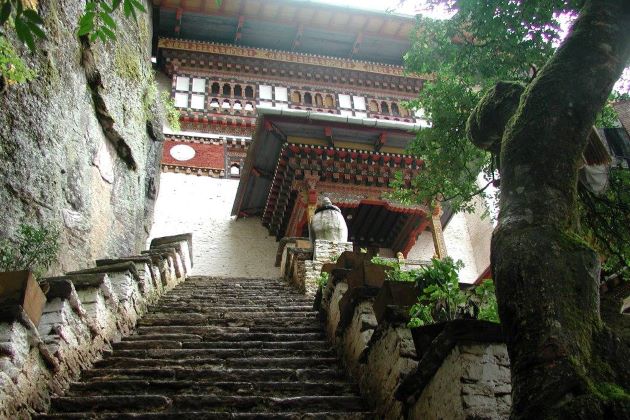 Special Notes:
You could ride a horse for the first hour when trekking to Taktsang Monastery
Photography is strictly forbidden inside the monastery
Travelers have to deposit all belongings (cameras, phones or other electronic equipment and bags) at the entrance.
Day 9: Paro Departure (B)
Your journey in Bhutan comes to an end today! After breakfast, your guide will pick you up from the hotel to the airport in time for the scheduled flight to your next destination. Before that, you can take a rest at the hotel or go for a walk nearby. Your trip ends.