General Information
Tour Date: (26th – 28th Sept)
Tour Route: Paro – Thimphu – Punakha – Paro
Duration: 7 Days/6 Nights
Guides: Bhutan Local Guide (English speaking guide, other languages depends on your request)
Transportation: Private first-class air-conditioned vehicles
Accommodation: Listed below or equivalent. Rooms with private bath or shower, hotel taxes, porterage, tips, and service charges.
Brief Itinerary: 
Day 01: Paro Arrival – Transfer Thimphu
Day 02: Discover Thimphu (B)
Day 03: Discover Thimphu (B)
Day 04: Thimphu – Punakha (B)
Day 05: Punakha – Thimphu – Paro (B)
Day 06: Tiger's Nest Hike (B)
Day 07: Departure (B)
Day 01: Paro Arrival – Transfer Thimphu
Kuzu zangpo la! Welcome to Bhutan – the last Shangri La on Earth. Today, on arrival at Paro Airport, meet and greet Go Bhutan Tours representative at the exit doors and transfer to the hotel in the city. After a short break at your hotel, enjoy a delicious lunch before ready to take an afternoon sightseeing around Paro.
Make your first visit to the Ta Dzong Museum to capture a collection of many religious relics including the works of art and handicrafts. Through these relics, you will have a look at a great orientation into Bhutan's historical, cultural, and religious past. Then proceed to Rimpong Dzong to see the painting of the great saint Milarepa. It is considered as the master of meditation by the Bhutanese and believed to have attained enlightenment in a lifetime.
Next up, drive to Thimphu – the capital of Bhutan for (1.5 hours) following the Pachu River. Before dinner, your guide will give you an orientation on Bhutanese etiquette by your guide.
Overnight at your hotel in Thimphu.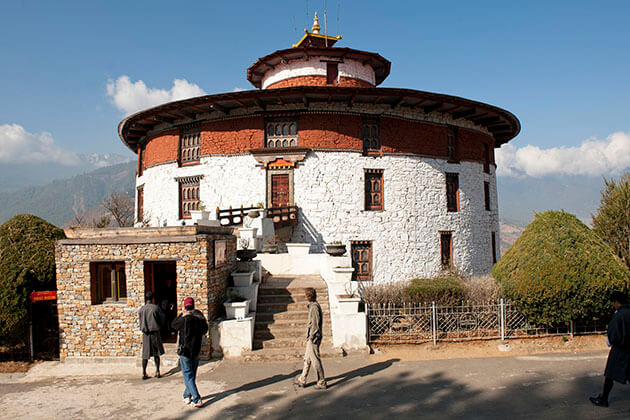 Day 02: Discover Thimphu (B)
After breakfast at the hotel, drive to Tashichho Dzong to attend the delightful Thimphu festival. You will see locals from miles around gather and dressed in their finest clothes. Here, watch the traditional masked dances which tell stories where good triumphs over evil, or depicting significant historical events, especially surrounding the life of Bhutan's patron saint, Padmasambhava (also known as Guru Rinpoche)
Listen to your guide to know more about the festival and the Dzong. Overnight at your hotel in Thimphu.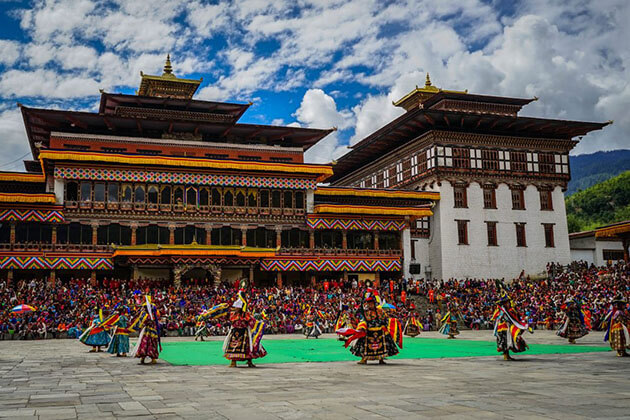 Day 03: Discover Thimphu (B)
Today is a full day for you to discover Thimphu. This morning, visit the 12th-century Changangkha Temple, and the National Memorial Chorten depicting the Buddhist faith in the form of paintings and statues. This temple was first initiated by the Third King as a protection from the negative elements of modernization, and as a monument to world peace. The Royal Queen Mother completed it as a memorial stupa for the Third King who passed away in 1972.
In the afternoon return to Tashicho Dzong to further experience the colorful events of the Thimphu festival. Overnight at your hotel in Thimphu.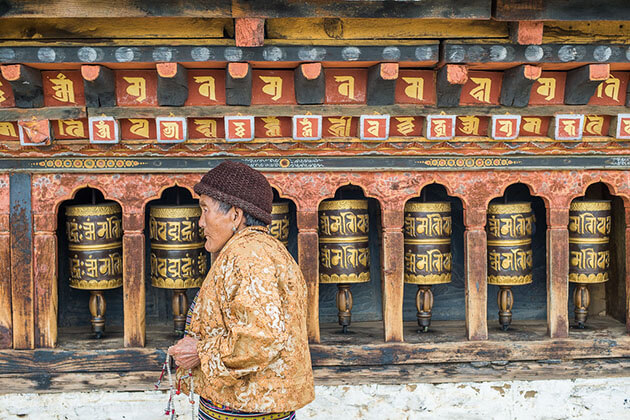 Day 04: Thimphu – Punakha (B)
Leave Thimphu this morning to take a drive to Punakha across the Dochu-La pass (3,100 meters), which offers you an incredible view of the Himalayan mountain range. Make a stop at Dochula Pass for a short visit before descending into balmy Punakha valley (about 3 hrs total driving time). In the Dochu-La area, there are vast Rhododendron forests that grow to tree size and bloom in late April/early May covering the mountains in a riot of glorious spring color.
Then your private drive through the countryside will give you a glimpse of the countryside scenery and the life of the people in this most remote of Himalayan kingdoms.
On arrival to Punakha, visit Punakha Dzong, the "Palace of Great Happiness". Stroll around the Dzong to observe the three-story temple of the Punakha Dzong which shows you a breath-taking example of traditional architecture with four intricately embossed entrance pillars crafted from cypress and decorated in gold and silver. It was here in 1907 that Bhutan's first king was crowned.
Following your afternoon sightseeing with a trip to Chimi Lhakhang, the temple of the Drukpa Kuenly who is also known as the Divine Madman who is considered a symbol of fertility and most childless couples go to his temple for blessing. Legend said that childless couples can go here and pray then they would be given a blessing from the deity.
Overnight at your hotel in Punakha/ Wangduephodrang.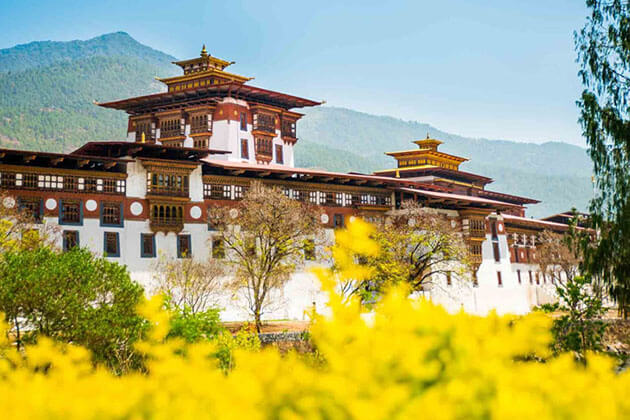 Day 05: Punakha – Thimphu – Paro (B)
After breakfast, drive to Yueley Namgyal Chorten to observe a collection of the paintings belonging to Nyingmapa Traditions.
After that, drive back to Thimphu where you will visit The National Library to see the collection of Bhutanese scriptures dating back to the 8th century and a fascinating replica of a medieval farmhouse at the Folk Heritage Museum. Here you will also have an opportunity to visit the handicraft and souvenir stores.
If your trip to Thimphu falls within the weekend, a trip to Thimphu Market is available to see the variety of food of Bhutan, including basket upon basket of fiery chilies, fresh cheese and a variety of fresh greens.
Afterward, your driver will transfer you to Paro. On arrival in Paro, check into the hotel. Overnight at your hotel in Paro.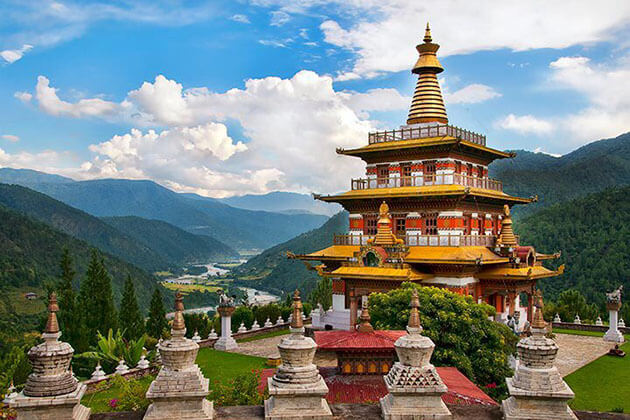 Day 06: Tiger's Nest Hike (B)
The morning of day 6 delivers you an amazing chance to hike up to Taktsang Monastery. It will take you about 2 hours to hike uphill from the Paro valley floor (for those who cannot hike we will arrange a horse for transfer up to the viewing point). Situated on a sheer rock cliff, the monastery faces 900 meters above the valley floor is a spectacular sight. For Buddhist pilgrim, Paro Taktsang Monastery is also an important pilgrim site for the Buddhists. According to legend, the great Guru Rimpoche has flown here on the back of a tigress when he brought the teachings of the Buddhist Dharma to Bhutan in the 8th Century and mediated in a cave there for three years, three months, three weeks, three days and three hours. Nearby the monastery, there is a teahouse where you can stop for refreshments.
In the afternoon, transfer to the Drukgyel Dzong – the original monument (destroyed by fire in 1951) was built by Shabdrung to commemorate his victory against invading Tibetans in 1644. On a clear day, the towering peak of the sacred Mount Jomolhari (7314m) appears as a stunning backdrop. On the return drive to Paro, visit other sights in Paro valley. Overnight at your hotel in Paro.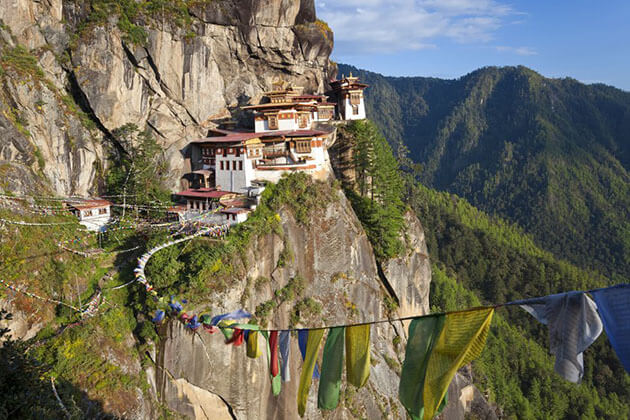 Day 07: Departure (B)
Breakfast in the hotel, then check out and our driver will transfer you to the airport for your departure flight. Thank you for making your trip with Go Bhutan Tours.