General Information
Tour Route: Phuentsholing – Thimphu – Punakha – Paro
Duration: 8 Days/7Nights
Guides: Bhutan Local Guide (English speaking guide, other languages depends on your request)
Transportation: Private first-class air-conditioned vehicles
Accommodation: Listed below or equivalent. Rooms with private bath or shower, hotel taxes, porterage, tips, and service charges.
Brief Itinerary: 
Day 1:  Arrival in NJP / Siliguri / Bagdogra Airport to Phuentsholing
Day 2: Phuentsholing – Thimphu
Day 3: Thimphu Sightseeing
Day 4: Thimphu – Punakha
Day 5: Punakha
Day 6: Punakha – Paro
Day 7: Paro – Phuentsholing
Day 8: Drop to NJP Station / Bagdogra airport
Full Itinerary
Day 1: Welcome to Bhutan Honeymoon Package (Arrival in NJP / Siliguri / Bagdogra Airport to Phuentsholing)
Kuzu zangpo la! Welcome to Bhutan! Today, on arrival at NJP / Siliguri / Bagdogra Airport, welcome by our representative and then transfer to Phuentsholing.
En route to the way to Phuentsholing, enjoy a hearty dinner in Bhutanese style before retiring for the night in your room.
Day 2: Phuentsholing – Thimphu
After freshening up, enjoy a cozy breakfast to recharge yourself before traveling and official formalities for Bhutan travel permit further into the kingdom. After breakfast, start the day with a drive to Thimphu – the Bhutanese capital.
Possessing the pleasant year-round weather, soaring hills on all sides and an old-world charm all combine beautifully, Thimphu is a perfect holiday retreat for your exhilarating honeymoon. What's more? The city is studded with Buddhist monasteries and temples that radiate peace.
Day 3: Thimphu Sightseeing
This morning, savor a lavish breakfast which would take you closer to Bhutan's amazing culture. After that, head out for a visit to Motithang Takin Preserve, home to Bhutan's national animal, the takin. Explore the protected territory which has pine forests that create a perfect environment for these animals.
Next up, visit the magnificent National Memorial Chorten, built in honor of Jigme Dorji Wangchuck, the third emperor of the kingdom. Marvel at three-story stupa with numerous shrines enshrining colorful statues of Buddhist deities and monarch photograph.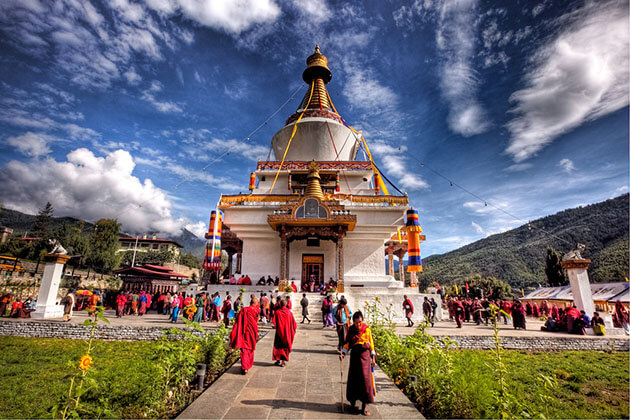 During the day, you might also travel to Tashichhodzong, a huge dzong-style building, from where the king rules. Stroll around its landscaped lawns and see the Buddhist artwork on its exterior walls.
Don't pass up your chance to visit the Folk Heritage Museum, the place, which will really bespeak about the lifestyle of the kingdom. The daily chores of villages, objects in use, typical village houses, livestock and stables, a rural kitchen and traditional open hot stone bathhouse are on display here.
Afterward, be awe-inspired at the sight of the around 52-meter high Buddha Dordenma statue. The idol has smaller statues of Bodhisattvas, Arhats, and mandalas.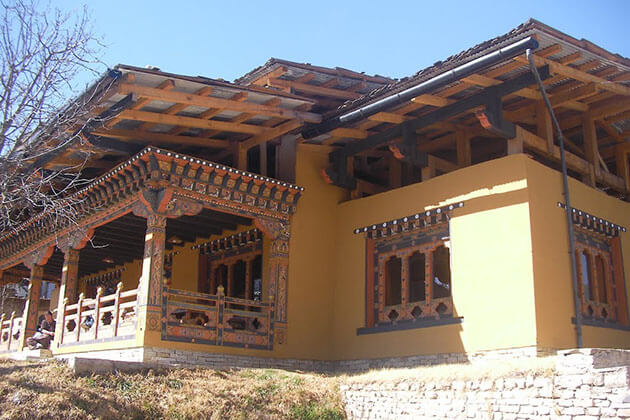 Like shopping? Then make the most of your time at the National Handicrafts Museum, where you may buy Bhutanese clothes, handmade paintings, and jewelry.
If you love photography, you can rejoice as they will get a great opportunity to click a bird's eye view of the city from atop BBS Tower.
After paying homage to the king, return to the hotel to gorge on a scrumptious dinner. Later on, enjoy an overnight stay in your hotel room.
Day 4: Thimphu – Punakha
After an early breakfast, meet your guide and drive to Punakha via Dochu La.
Located at a height of 3,088m/ 10,130 ft, Dochu-la pass is a scenic hill with chortens, mani wall, and prayer flags that decorate the hill. If skies are clear, you will see the following peaks from this pass in the order left to right: Masagang (7,158m), Tsendagang (6,960m), Terigang (7,060m), Jejegangphugang (7,158 m), Kangphugang (7,170 m), Zongphugang (7, 060 m), a table mountain that dominates the isolated region of Lunana – finally Gangkar plenum, the highest peak in Bhutan at 7,497m, after this uplifting experience proceed further to Punakha.
Next up, visit Punakha Dzong – the Happiness Palace. Constructed strategically at the junction of Pho Chhu and Mo Chhu rivers in 1637 by Shabdrung Ngawang Namgyal. The palace served as the religious and administrative center of the region. Through time, Punakha Dzong has played a significant role in Bhutan's history.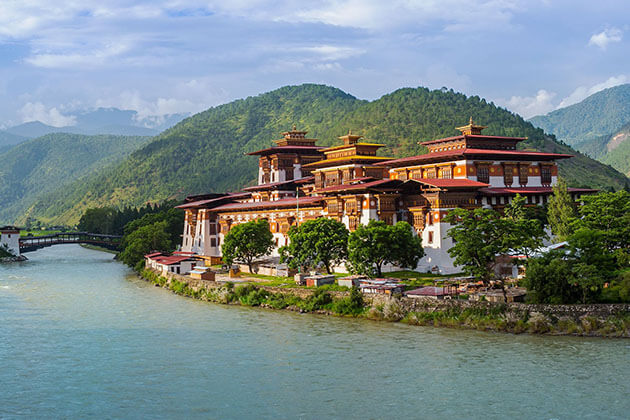 Following your afternoon sightseeing with a visit to Chimi Lhakhang. Located on a hillock in the center of the valley, the temple is built in honor of Lama Drukpa Kuenley, who used humor, songs and outrageous behavior to dramatize his teachings in the late 15th century. Due to this also known as 'Divine Madman', the temple is also well-known as the temple of fertility. It is widely believed that couples who do not have children and wanting one, come and pray at this temple and they will be blessed with a child very soon. Take about a 30-minute walk across the field from the road to reach the temple. Then follows a tiny stream downhill to Yoaka before taking a short climb to Chimi Lhakhang.
Overnight at the hotel in Punakha (Altitude 1300m).
Day 5: Punakha
After breakfast, join in a beautiful hike to the regal Khamsum Yuelley Namgel Chorten, which was built to remove bad forces and promote peace, stability, and harmony in the changing world. The Chorten dominates the upper Punakha Valley with panoramic views across the scenic Mo Chu River and up towards the mountainous peaks of Gasa and beyond.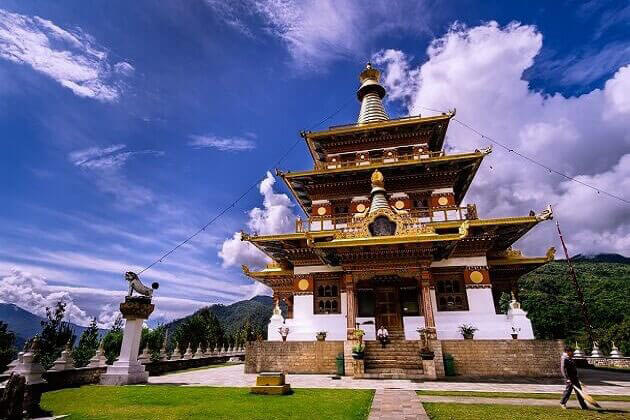 After a cozy lunch, make an excursion toward western Bhutan to Wangdue Phodran. The name of the district is also the name of the dzong (built-in 1638) which dominates the district, and the name of the small market town outside the gates of the dzong. It is said to have been given by the Shabdrung Ngawang Namgyal who was searching for the best location for a dzong to prevent incursions from the south. At the chosen spot the Shabdrung encountered a boy named Wangdi playing beside the river and hence named the dzong "Wangdi's Palace".
Day 6: Punakha – Paro
After breakfast, head to Paro for another comprehensive sightseeing excursion to Paro.
With around 155 monasteries, temples and stupas, Paro is no doubt the religious heart of Bhutan. While the city buzzes with tourists, the liveliness takes nothing away from its natural beauty.
Make your first visit to Kyichu Lhakhang, where numerous treasures are believed to have been hidden by Padmasambhava. Capture the wooden roof and white brick structure of the temple which are embellished with colorful paintings.
Here you will also see a mighty fortress, Drukgyel Dzong. It is now mostly in ruins but is strong masonry walls and cylindrical towers have withstood the fall of time.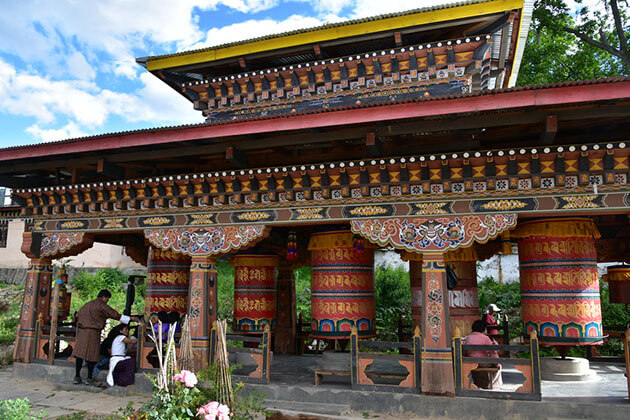 If you liked the Folk Heritage Museum, then you will absolutely love the National Museum. Housed inside Ta Dzong, the museum displays an expansive collection includes farm tools, ritual objects, jewelry, coins, traditional attire, and many more.
Day 7: Paro – Phuentsholing
Enjoy a yummy breakfast and transfer to Phuntsholing. Then spend your time at leisure.
Day 8: Today drop to NJP Station / Bagdogra airport
After breakfast transfer to the airport for flight to onward destination.